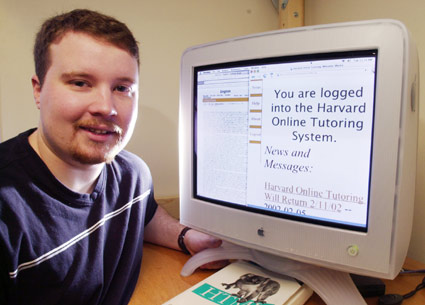 Mackie Dougherty '03 wants to help time-crunched Harvard students do good deeds … in their pajamas.
Dougherty is the founder and president of Harvard Online Tutoring, a new community service organization that links the academic firepower of Harvard students to the questions and conundrums of Boston high school students. To his knowledge, it's the only nonprofit online tutoring service in existence.
"Harvard students have no time, and in spite of that are amazingly willing to do community service," says Dougherty. "And everybody here is good at academics." He saw an opportunity in the Internet to share his fellow students' expertise with Boston high schoolers without requiring the busy Harvard students to travel. "We cut out the van ride," he says.
Harvard Online Tutoring began a year ago, when Dougherty and Chris Palmer '00, who works in Electrical Engineering and Computer Science at Harvard, started developing software and acquiring hardware for the program's Web site (http://www.tutor.eecs.harvard.edu). The service went live this fall, matching high school students with Harvard "experts" in English, science, history, and math. Initially unsure whether or how the service would work, Dougherty has been pleasantly surprised. "The feedback that we've gotten has been really positive," he says.
Harvard Online Tutoring works with the Boston Public Library (BPL), which creates accounts for high school students at any of its 27 branches. Once a student has an account he or she can access Harvard Online Tutoring from any computer with an Internet connection. Dougherty praises the library's partnership, noting that the research nature of many questions make it an ideal portal for the service.
In addition, all BPL branches have computers with high-speed Internet access, ensuring that any Boston student can log on to the service. "We wanted to make sure that students from all socio-economic backgrounds could access us," says Dougherty, adding that the no-frills Web site needs only a 33K modem to work.
Once logged in to a particular subject area on Harvard Online Tutoring, high school students can either post work for review by tutors (college essays were very popular as early admissions deadlines approached in the fall) or ask questions in real time weekday afternoons via the service's chat room. The chat room boasts not only text questions but also a "white board," where students and tutors can draw with a mouse. "It's great for math and science," says Dougherty.
Dougherty, a social studies concentrator who tutors in history, says that questions come in two flavors. Straightforward factual queries – "What's an amoeba?" "What was feudalism?" – prompt research tutorials, as the tutor guides the student to the answer, often utilizing Web search engines. "It would be both poor tutoring technique and time-consuming to write an essay over a chat room describing feudalism," he said. "So we tell them 'here's how to find the answer.'"
Meatier questions involve helping students through projects like research papers or academic-style essays: "Describe the transition from feudalism to absolutist government in Europe," asked one high schooler. Dougherty helped her learn to use resources in the library and also gave her an outline of the period's "greatest hits" to guide her.
Dougherty, a Currier House resident who funded the start-up costs of Harvard Online Tutoring with money from a summer job, is eager to grow the service, which remained modest in scope this fall to ensure its effectiveness. Now, he's reaching out to more high school students, recruiting new tutors and seeking additional funding from the University Council and foundations.
Although he acknowledges that face-to-face tutoring is more effective, Dougherty is enthusiastic about the possibilities of his project. "Our tutors are wonderful in that they really want to make a difference in these kids' lives," he says. "We didn't want to let the best be the enemy of the good."