Leo P. Krall, M.D., an international leader in the field of diabetes for half a century and one of the original founders of Joslin Diabetes Center in Boston, died Jan. 30, at the age of 87.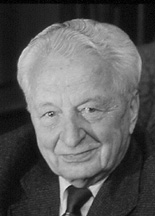 Krall was one of Joslin Diabetes Center's most renowned clinicians and researchers. In 1947, Joslin Diabetes Center founder Elliott P. Joslin, invited Krall to join the team of physicians who established the Joslin Diabetes Center, which has become the pre-eminent diabetes treatment and research facility in the world.
Just as important, Krall loved the practice of medicine and his contact with patients. Though semi-retired, Krall continued up until his death to make weekly visits to Joslin to treat patients from around the world. A tireless educator, Krall lectured internationally and took particular interest in the dissemination of information in developing countries. Krall founded and directed the Joslin International Fellows Program, which facilitated the training of diabetes clinicians from around the world.
"Dr. Krall was among Joslin Diabetes Center's most highly regarded clinicians and scholars. He served as an ambassador for Joslin Diabetes Center and the methods first taught by Dr. Joslin to people with diabetes throughout the world," said Joslin President C. Ronald Kahn. "He was well-loved throughout the world for his many contributions to diabetes. He has been an integral part of the center for over 50 years."
Among his many contributions, Krall served as director of Joslin Diabetes Center's education division, where he successfully developed self-maintenance programs for diabetes patients and chaired the annual Harvard-Joslin course that attracts physicians and other health professionals to Boston each year. Krall edited the widely known Joslin Diabetes Manual, a patients' guide to diabetes printed in 12 editions and in at least six languages. He also served as chief editor of the "World Book of Diabetes Practice," co-editor of Diabetes Annual, and editor and contributor to numerous international journals, having authored or co-authored nearly 200 scientific papers and other publications.
In 1985, Krall was elected president of the International Diabetes Federation.
He was a member of the board of overseers at Joslin, and a lecturer in medicine at Harvard Medical School. In 1998, Krall was presented the Joslin Achievement Award for exemplary service and the highest degree of commitment to Joslin Diabetes Center and the fight against diabetes. Last year in honor of Krall, the Joslin Diabetes Center established The Leo P. Krall, M.D., International Diabetes Care and Education Fund for the development of innovative clinical training programs and education opportunities for diabetes clinicians from around the world.
Born in New York City, Krall held a bachelor's degree from Pacific Union College and his medical degree from Loma Linda University School of Medicine. He completed his medical training at the U.S. Marine Hospital on Staten Island, N.Y., and at the former New England Deaconess Hospital in Boston and the U.S. Marine Hospital in San Francisco. He served as a medical officer in the U.S. Navy during World War II.
Krall is survived by his wife, Lois; a son, Kenneth, of Beverly; two daughters, Kristina Cady of Pittsford, Vt,. and Katherine Krall Guy of Byfield; and six grandchildren.
In lieu of flowers, the family encourages contributions in Dr. Krall's memory to be made to the The Leo P. Krall, M.D., International Diabetes Care and Education Fund, Joslin Diabetes Center, Development Office, One Joslin Place, Boston, MA 02215.