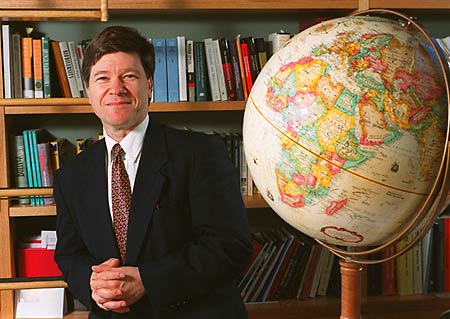 Jeffrey Sachs, Galen L. Stone Professor of International Trade and director of the Center for International Development, has been named a special adviser to the United Nations secretary-general on the UN's Millennium Development Goals.
Sachs said his appointment is an extension of his work as chairman of the World Health Organization's Commission on Macroeconomics and Health, where he worked to advance the UN's health goals. In January, the commission published its recommendations on how to achieve those goals. Sachs said the new appointment will allow him to also work on hunger, education, and the preservation of biodiversity.
The eight millennium development goals deal with health, poverty, education, and the environment and were established at the millennium summit in September 2000. They were endorsed by 160 world leaders attending the summit.
Sachs' duties will be to gather and commission research and to develop new approaches to achieve those goals, which include the overall goal of halving extreme poverty by 2015.
Sachs points to the world's situation at the beginning of the new millennium as reason for hope. The rich countries are richer than ever before, he said, and some poor countries, like India and China, have made great strides toward modernization. Any effective plans will have to incorporate local planning and action, he said, as well as technical support from the international community.
"The world makes goals all the time, universal health, universal primary education," Sachs said. "I'm very excited about the idea of actually achieving these goals."
Though the appointment is for one year, Sachs said he expects the one-year term to be extended. He said he anticipates his UN work taking roughly one day a week of his time.
He will work closely with UN Development Programme Administrator Mark Malloch Brown who has been charged with coordinating the campaign to reach the millennium development goals across the UN system.