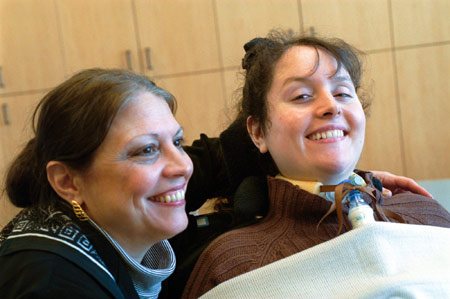 Anyone who knows Brooke Ellison won't be surprised that since her news-making graduation from Harvard College in 2000, she has written a book, kept a busy schedule of speaking engagements, and made plans to attend graduate school.
Oh yeah, she has also been working with Christopher Reeve on a movie about her life.
"It's definitely been a whirlwind year and a half," Ellison said during a recent interview.
Ellison's determination in completing her four-year Harvard career despite being paralyzed from the neck down won her international media attention when she graduated in June 2000. Ellison and her mother, Jean, who lived in the dormitories with Brooke for her four years as an undergraduate, were on campus on Friday (Feb. 8) for a Harvard Coop booksigning, their first since the book "Miracles Happen" hit the stores last month.
Written in both their voices in alternating chapters, the book tells the story of Brooke, Jean, and the Ellison family since Brooke was struck by a car on her first day of seventh grade in 1990. "Miracles Happen" details her nine long months of rehabilitation, the slow realization that Brooke would not regain the use of her arms and legs – or even be able to breathe without a respirator – and the triumphs since.
Despite the initial tragedy, the book is a testament to love, dedication, and determination. Brooke's determination would have come to naught without the dedication and love of her mother, who early on gave up her plans to teach to provide near-constant attention to Brooke. Jean's self-sacrifice combined with Brooke's refusal to give up her dreams led them both first to mainstream high school classes and, ultimately, to Harvard.
On Friday night, Brooke and Jean took turns reading the first chapters of the book's three main parts, detailing Brooke's accident and rehabilitation, her return home and high school years, and her Harvard career. The reading, which took place on the Coop's third floor, between rows of religion books on one side and philosophy books on the other, drew a quiet but attentive crowd of about two dozen.
Brooke and Jean, in an interview earlier in the day, said the book was a lot of work, particularly since they signed the deal in September 2000 and had a March 2001 deadline.
"It's a good thing it was winter, because we didn't move from the house," Jean said.
Parts of the book were hard to write, Jean said, because it forced them to relive the difficult period around the accident. Even though that day changed their lives, they don't tend to think about it day-to-day, she said. To write the book, however, they had to examine that time, sift through it, and retell it.
The most difficult part for Brooke was dealing with her emotions in a way that would justify them in a dignified way, she said. Though she is a model of what can be accomplished through love and determination, Brooke said she had a tough time sorting out and describing her own longing for life to be different, her longing for relationships, and her sense of loss.
At about the time the book deal was signed, actor Christopher Reeve approached Brooke and her family about doing a movie about her life. The Ellisons agreed. So far, a script has been written, but the project has not received the final go-ahead from ABC, which would produce and air the project.
As for the future, Brooke has applied to six graduate programs. She has been accepted to one – at Columbia University – and is waiting to hear from the others. She said she is interested in counseling and psychology and is looking forward to returning to an academic setting. In addition to everything else that is going on, she is considering writing a novel with her father, Ed.
Since graduating, Brooke has kept up a steady pace of speaking engagements to groups as diverse as politicians and schoolchildren. She said she varies the speech to suit the group, but the message is the same: Difficulties are inevitable in life, but with the support of people around you, challenges can be met.
"I try to offer them a message of hope. I try to use my own life as a framework on how challenges can be met," Brooke said.
That message resonates particularly at Harvard, where she said she learned so much about herself and others. At Harvard, people tend to be – or feel they should be – particularly self-reliant.
"There's an element of self-reliance to the Harvard student, but nobody gets to where they're going alone," Brooke said. "Things never really turn out as you expect them to."