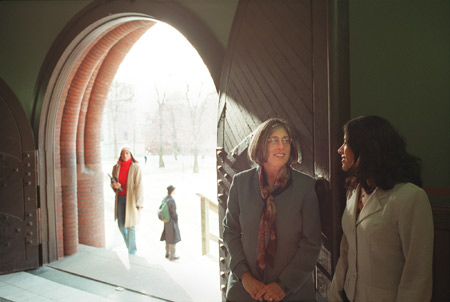 No one said Harvard would be easy. Your roommate drives you crazy, you can't master that chemistry assignment, and it's been weeks since you've slept through the night. In fact, you're quite certain the admissions office made a grievous error in inviting you here in the first place.
The good news is that Harvard is rich in resources to help you manage the ups and downs of life.
And the bad news? The University's notorious decentralization and the ongoing grind of life as a student may hinder your efforts to find and access them. Or maybe you're frightened, vulnerable, or ashamed that seeking help means you're weak.
Caring for the Harvard Community, a series of workshops, discussions, and lectures for students and staff presented by the Office of the Provost and the University Student Health Coordinating Board, aims to remove any obstacles between students and positive mental health. From Feb. 19 to 26, more than 36 sessions around campus – at houses, dorms, graduate schools, and staff offices – will address the broad themes of "Relationships" and "Taking Care of Ourselves," from managing stress to locating support.
"We've got great resources at Harvard, but we want to make sure people know about them," says Assistant Provost Marsha Semuels. Semuels is working with campus providers of mental health services, University Health Services (UHS), and the Bureau of Study Counsel (BSC) to focus the University on the well-being of students and the Harvard community at large.
Richard Kadison, chief of mental health at UHS, cites depression, alcohol, and eating problems – all of which have their onset in late adolescence and early adulthood – as common to a significant number of students. "Recognizing and reducing the stigma to talk about these issues is a primary goal of these events," he says.
Staying connected
On Thursday, Feb. 21, author, psychiatrist, and Harvard Medical School instructor Edward Hallowell will give a keynote speech to the entire Harvard community on "Staying Connected When Life Is Challenging." Other University-wide events include an eating disorders forum at the Graduate School of Education Feb. 25 and a screening of the feature film "Girl, Interrupted," about a young woman's stay at McLean Hospital, on Feb. 21.
A complete listing of events is available at www.provost.harvard.edu/shcb/caring.
Likening the series' grassroots energy to that of Arts First, Semuels says that students have planned programs in the houses and graduate schools, addressing topics like "From Longing to Belonging: Developing and Maintaining Relationships" and "Success 101: Healthy and Happy at Harvard and Beyond."
"These programs fill an important role in the houses," says Heather Wachtel '03, student coordinator for Caring for the Harvard Community and co-director of the Community Health Initiative. There remains a stigma to seeking help for mental health issues, she says, and large public workshops with peers help erode that. "We want students to understand that wanting to talk about mental health is normal. There's nothing wrong with it or shameful," says Wachtel.
'What can I do?'
A parallel track of workshops is aimed at helping staff identify and assist students who may need mental health care. While the University is peppered with staff – health workers, tutors, and proctors – whose primary responsibility is students' well-being, there are many others, says Semuels, whose daily contact with students makes them valuable resources for spotting students in distress and helping them find care.
Faculty members, for instance, are on the front lines of identifying academic stress; financial services and computer support staff contact students over hot-button issues; and dining hall staff see students socializing. Whether bean-cookers or bean-counters, these staff are by no means trained to help students through difficult times. Yet they can, says Semuels, play an important role.
In addition to workshops, a brochure called "What Can I Do? How to recognize students in distress … and how to help" has been distributed to all faculty members. Students have received a different brochure, called "When It's More Than Just a Bad Day: Finding Help at Harvard" (http://www.provost.harvard.edu/shcb/help), that outlines professional, peer, and spiritual organizations ready to listen and help.
'Life feels tougher'
From the emotional fallout of Sept. 11 to highly publicized cases of campus suicides, the spotlight shines bright on issues of mental health on college campuses everywhere. Semuels is not surprised.
"Students are more stressed and more vulnerable than they were in the past," she says. Improved medication has made college accessible to students with more severe mental health issues, like bipolar disorder, who would not have attended college several decades ago.
Plus, says Semuels, "life feels tougher. People have more pressure."
Harvard has been acclaimed as a model of student mental health services, says Semuels, who receives requests from other universities for the "What Can I Do?" brochure. The University provides "multiple safety nets to students in need, and multiple open doors for students seeking help to improve the quality of their lives," says Charles Ducey, director of the Bureau of Study Counsel. Caring for the Harvard Community will knit together any gaps in those safety nets.