Bruce Willis didn't save the world on his Valentine's Day visit to Harvard, but he did manage to salvage his dignity, fielding every curve his hosts threw him with good-natured grace and humor.
As the Hasty Pudding Man of the Year, Willis, the star of such movies as "Die Hard," "The Sixth Sense," and the recently released "Hart's War," proved he could be a good sport whatever the circumstances, playing blues harmonica with the Hasty Pudding band and improvising a kickline with two gowned undergraduates while wearing a gold bra and a Dolly Partonesque blond wig.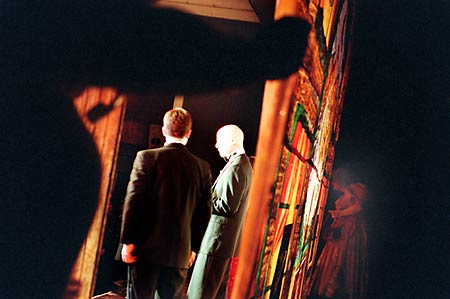 On an afternoon tour of the Yard, Willis maintained an air of indulgent amusement as Pudding members Kevin Meyers '02 and Stefan Atkinson '03 gave detail-laden recitations on Harvard history and architecture.
"You'll be quizzed on this later," Atkinson warned.
"Got it," Willis nodded. Then, in a muttered aside, "I'm not going to pass this quiz."
Wearing a black jacket, knit cap, jeans, and battered cowboy boots, and sporting a mustache and a tuft of beard under his bottom lip, Willis strolled from Johnson Gate to Memorial Hall, accompanied by a crowd of students, reporters, and photographers. Arriving at the John Harvard statue, Meyers announced that he would now tell Willis the story of the famous monument.
"Let her rip," said Willis.
Meyers began by saying that the Daniel Chester French sculpture was known as the statue of the three lies.
"I hate that," interrupted Willis. "When will the lies stop?"
After the lecture, the doors of Memorial Hall flew open and the female a cappella group, the Radcliffe Pitches, came tripping down the stairs. Forming a semicircle around Willis, they launched into the Gershwin classic "They All Laughed." After the performance, Willis, perhaps reluctant to irritate anyone's cheek with his newly sprouted moustache, belied his bad boy image by decorously shaking hands with each member of the group.
At the Hasty Pudding Theatre that evening, a capacity crowd, many in formal attire, patiently waited more than 30 minutes for Willis to show up. When he finally did, now dressed in a tux with his head cleanly shaven, the applause showed that the long delay had not dampened the audience's enthusiasm.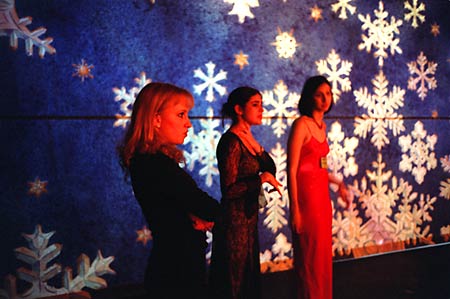 Lena Demashkieh '03 and Joshua Bress '02 were the Pudding members in charge of putting Willis through his paces onstage. Bress made a mock-"Die Hard" entrance, descending from above in a harness while carrying an automatic weapon. Three young women rushed forward to undo the harness to the accompaniment of the reggae song "Bad Boys."
Willis' first task was to conflate two of his best-known films – "Look Who's Talking," in which he supplied the voice of the infant Mikey, and the gritty Quentin Tarantino movie, "Pulp Fiction." Bress handed Willis two dolls with instructions to recreate a scene from "Pulp Fiction" in Mikey's voice.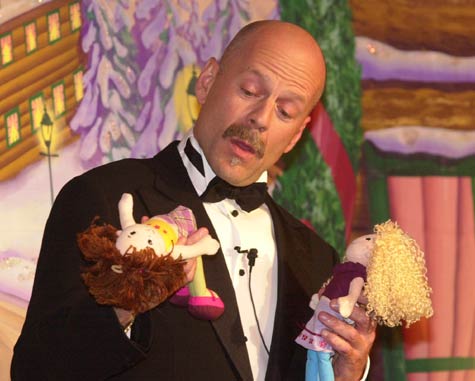 After observing that neither of the dolls could be Mikey because they were both girls, Willis segued into an anti-drug message. "As a doll, I'm unable to take drugs," he quipped.
Next came an exercise designed to make Willis "a little less macho and a little more sensitive" – a session of step aerobics. Wearing blue sweat bands on his head and wrists, Willis mounted the step platform twice very slowly, then bent over, hands on knees, to catch his breath.
"My heart's beating like a rabbit," he panted.
"We heard you were gearing up for "Die Hard 4," Bress said, "and that it's going to be called, 'Die Harder than you've ever Died Before.'"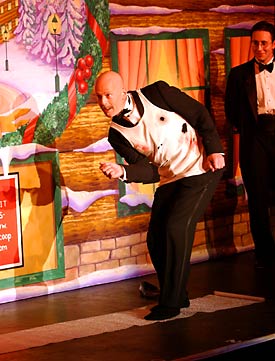 Wearing a torn and dirty undershirt over his tuxedo jacket, Willis had to re-enact a scene from the original "Die Hard" film in which he (among other feats) walked across broken glass to save a group of hostages.
"But we're not allowed to use broken glass in the Hasty Pudding Theatre," Demashkieh said, "so we're going to use bubble pack."
Willis had to transverse the sheet of bubble pack in slow motion, while dodging imaginary bullets.
"Thank you very much, ladies and gentlemen," he said, bowing after completing the assignment.
Next, Willis was required to ride through an obstacle course of miniature traffic cones on a scooter, the premise being that in "Die Hard 4," Lt. John McClane has been stripped of his driver's license. He overcame this challenge with equal aplomb.
A more congenial task followed. Willis was handed a harmonica and asked to demonstrate his skills as a musician. Accompanied by the pit band, the actor launched into a funky, up-tempo blues number, which he later identified simply as "Shuffle in A by Bruce Willis."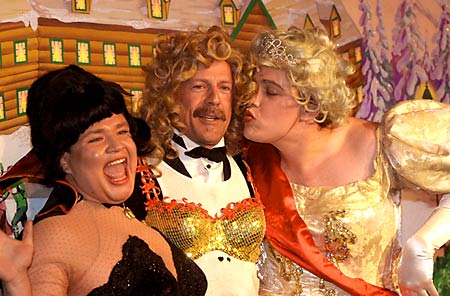 Finally came the inevitable bra and wig. "Well, it's come to this," Willis said, gazing ruefully down at the gleaming golden undergarment adorning his chest.
After a dance with two exuberant Pudding lovelies, Willis was handed his pudding pot.
"Any time I can get up in front of my peers, put on a gold bra and a nice blond wig is pretty exciting," he said. "I've gotten other awards, but they're always about something else – politics or trying to sell something. This is really an honor."