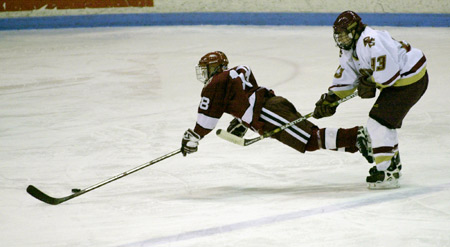 For senior goalie Alison Kuusisto '02, Tuesday night's Beanpot victory over B.C. must have tasted extra sweet. The Crimson netminder, who made 20 saves in the 7-2 winning effort at Northeastern's Matthews Arena, is the only Harvard player to have been part of each of the team's last four consecutive Beanpot championship outings. What's more, she received the tournament's Most Valuable Goalie Award.
The Crimson (13-9-1, 6-4-1 ECAC) overwhelmed the Eagles (7-16-3, 3-11-2) with sound net management, defensive play-busting, and a barrage of shots on goal (40), nearly doubling B.C.'s output.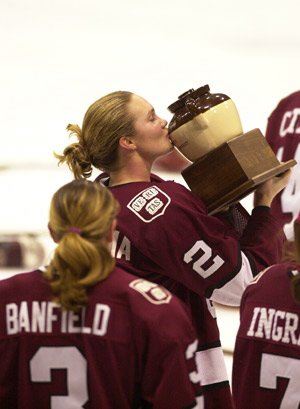 Freshman Ali Crum notched the first goal of the game at the 9:18 mark of the first period, when sophomore center Lauren McAuliffe slid her the puck and she flung it past Eagle goalie Lisa Davis. A series of icing calls on B.C. set up Harvard's next goal when freshman Kat Sweet – following a faceoff in Eagle territory – slapped a shot past Davis at 17:52 to put Harvard up 2-0.
In the second period, Harvard extended its lead to two goals, the first of which was due to some masterful deking by Tracy Catlin '03. Racing out from the blue line on a pass from Sweet, the junior out-skated two Eagle defenders on the breakaway in highlight-reel fashion. After nearly taking a spill, Catlin deked out Davis before going to her backhand to notch the first of her two goals. With less than two minutes left in the middle period, center Lauren McAuliffe sealed the game's fate, slamming a rebound past Davis to go up 4-0.
The Eagles avoided the shutout in the third period – an insanely busy third period – when Alaina Clark beat Kuusisto on the one-on-one at the 9:20 mark. Crimson left winger Nicole Corriero '05 claimed her 25th goal of the year a minute later, scoring on a rebound by teammate Ashley Banfield to give Harvard a 5-1 advantage. Just 33 ticks later, Catlin recorded her second goal of the game (and 13th of the season), popping another rebound shot past Davis. With just 58 seconds remaining in the game, Missy Barsz scored the second and final goal for B.C. to make it 6-2. McAuliffe offered little in the way of sympathy for her Beanpot brethren, hoisting the puck over Davis for an exclamation-point goal with just five seconds left. The 7-2 victory marks Harvard's 8th Beanpot title. For her two goals and two assists – and overtime-inducing goal against Northeastern in the semifinals – Catlin was named Beanpot MVP.
The women's team returns to action tomorrow (Friday, Feb. 15) against St. Lawrence at the Bright Hockey Center.
In men's action, B.C. handed Harvard a 4-0 loss in Monday's Beanpot consolation game. The loss marks the second consecutive last-place finish for the Crimson (10-10-3, 9-5-2 ECAC) in the hometown tourney. Three days prior (Friday, Feb. 8), Harvard delivered an impressive 6-0 shutout against a visiting Vermont team. Sophomores Tyler Kolarik and Tim Pettit each netted a pair of goals in the win. The Crimson return to ECAC action this weekend with road games against No. 3 Clarkson and No. 9 St. Lawrence.