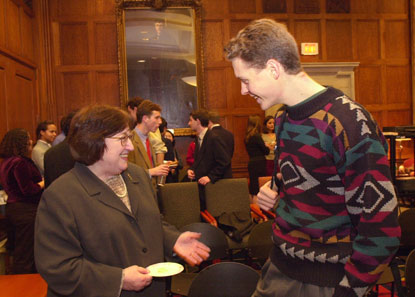 The following students were selected as the Senior 48 by the Phi Beta Kappa chapter at Harvard College. The students, listed below with their Houses and concentrations, were elected to Alpha Iota this past November.
Nickolay Todorov Boyadjiev, social studies, Mather
Morgan Eleanor Ann Bradylyons, social studies, Eliot
Matthew Frank Buas, biology, Currier
Angus Robinson Burgin, history and literature, Kirkland
Richard Charles Chiburis, mathematics and computer science, Quincy
Andrew Haiwen Chu, mathematics, Currier
Laura Kressner Cobb, women's studies and history, Winthrop
Joseph Francis Cooper, psychology, Cabot
Elizabeth Bennett Cullum, history, Cabot
Aaron Joshua Dinkin, mathematics, Quincy
Benjamin Gordon Edelman, economics, Currier
Emily Carpenter Ferguson, anthropology, Lowell
John Norton Friedman, economics, Lowell
Peter Wickelgren Graham, physics, Kirkland
Jennifer Hayley Hepps, psychology and biology, Kirkland
Michael Anthony Hill, mathematics, Winthrop
Robert Sean Hill, biology, Kirkland
Susie Yi Huang, chemistry, Dunster
Cendri Anne Claire Hutcherson, psychology, Quincy
Sahir Saad Islam, applied mathematics, Leverett
Derek Jay Kaufman, environmental science and public policy and economics, Quincy
Vera Keller, history and literature, Dudley
Yuni Kim, linguistics, Eliott
David Deren Kornhaber, English and American literature and language, Lowell
Timothy Bernard Lautz, chemistry, Eliot
Jonathan Lippman Lee, social studies, Adams
Janice Margaret Leung, history and science, Quincy
Conor Michael Liston, psychology and biology, Mather
Rochelle Pauline Lundy, anthropology, Mather
Catherine Alexandra Marlantes, social studies, Eliot
Nicole Marie Martin, biology, Leverett
Deirdre Alanna Mask, classics (Latin), Currier
Philip Joseph Matchett, mathematics, Leverett
Ethan Michael Merlin, comparative study of religion and philosophy, Currier
Sarah Elizabeth Moss, mathematics, Leverett
Alec Justin Nevala-Lee, classics, Adams
Emily Nicole Ogden, English and American literature and language, Leverett
Joshua Lee Passman, economics, Winthrop
Parag Abishek Pathak, applied mathematics, Lowell
Devon Ronan Quasha, psychology, Dunster
Katherine Elizabeth Sharaf, biology, Dudley
Timothy Fohs Sohn, history, Adams
Pauline Tsai, philosophy, Kirkland
Brooke Jamie Wagner, economics, Leverett
Silas Lancelot Wang, engineering sciences, Leverett
Andre Damian Williams, economics, Dunster
James Lindley Wilson, social studies, Mather
Lindsey Ohlsson Worth, philosophy, Eliot.