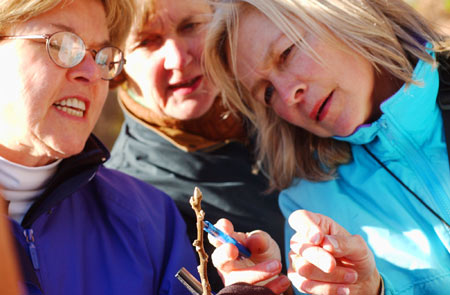 Staff photos by Stephanie Mitchell
The students studied the European beech tree, as wide as it is tall even though it towers 70 feet into the air. Before them, Catherine Cardamone talked as she squatted in the street, sketching the scene before them in bright blue marker on a large pad laid in the road.
The cars just went around.
"There's not just one solution," Cardamone said to the students in her "Landscape Design I" class. She illustrated her assertion with her marker. First she scratched two other enormous beeches into the landscape to illustrate what a small grove would look like at that protected spot at Mt. Auburn Cemetery. Then she started over on a fresh page and drew an oblong pond and a tall elm tree, which would tower over the scene and balance the sheer mass of the beech. "Each solution brings something else to the design."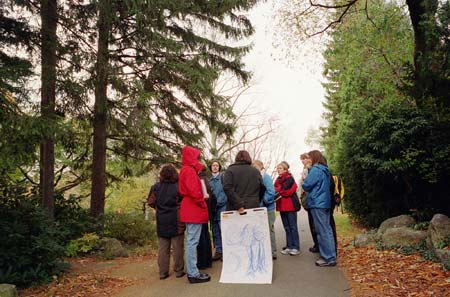 Design is what the class is all about, but it's the landscape that attracts students to the program, which is moving from the Radcliffe Seminars to the Arnold Arboretum in July. While the program has always appealed to people in midcareer, Cardamone and Landscape Design Program Chairman John Furlong said that today increasing numbers of students appear to be from high-tech fields.
"It's really society. More and more people are burning out and want to do something outside that has something to do with nature," Cardamone said.
Overall, Furlong said, students of the Landscape Design Program are tending to be older, with the average age now at about 40, up slightly from 37 or 38.
"Right now, there are a lot of high-tech people. People who've been sitting behind a computer for five or 10 years and don't see that taking them anywhere in the future," Furlong said. "If you want your Web page designed, we've got lots of people who can design Web pages."
Moving to the Arboretum
While the recent shakeout in the high-technology industry has doubtlessly helped that trend, Furlong said the Landscape Design Program, which offers a graduate certificate in landscape design, was fashioned to appeal to adult students.
"We make it very easy to go back to school. The open enrollment makes it easy to come take courses and decide about your future," Furlong said. "When you're designing and working in gardens, it's a great place to think about your future."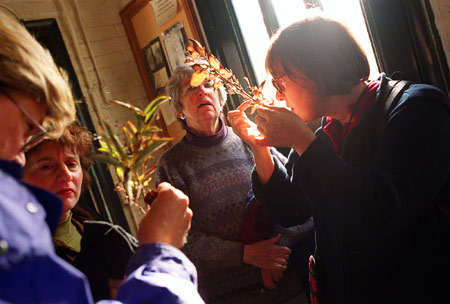 Though the Radcliffe Institute for Advanced Study and the Arnold Arboretum recently announced an agreement to move the Landscape Design and Landscape Design History Program to the Arboretum as of July 1, students will see little immediate change. Though administrative functions will move to the Arboretum, classes will continue to be held at Radcliffe's Cronkhite Center in 2002-03.
The move, announced in December, is part of Radcliffe's focusing its mission since its 1999 merger with Harvard. On Wednesday (Jan. 16) Radcliffe announced it was moving its seminars courses in fine art, art history, and creative writing to Lesley University. (See related story, page 6.)
The main change Furlong foresees from the move is an increased emphasis on themes already important in the program's classes: conservation and preservation, with an emphasis on things such as preserving wetlands, use of buffer zones, and use of native or noninvasive plants.
Furlong said about a third of their students are midcareer professionals who wind up going into landscape design professionally. Another third take a few classes and move on. And the last third is made up of people already in the field and looking to upgrade their skills.
Graduates have little problem finding work, Furlong said, since there's a lot of development going on but few trained landscape designers. It's also a field that is somewhat recession-proof, because when the economy is booming, development generates demand for landscape designers, and when it isn't, people stay home to improve their gardens and yards.
"We're way behind as far as filling demand," Furlong said.
Phyllis Strimling, director of the Radcliffe Seminars and associate/director of the Radcliffe Center for Educational Programs, said that the changed mission of the Radcliffe Institute for Advanced Study prompted the move to the Arboretum, and added that the Institute's leaders are happy the program found such a natural home.
"If Radcliffe couldn't or shouldn't carry forward with the program, how wonderful to be able to put it in a place so beneficial to the program," Strimling said.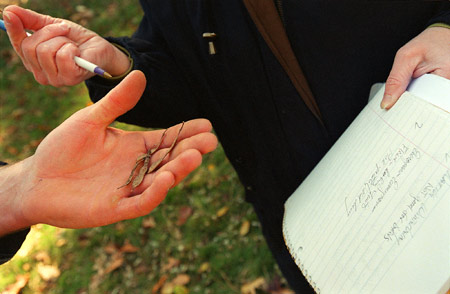 The language of design
One attraction of the program is surely the out-of-doors. Students in Cardamone's "Design I" and "Deciduous Tree and Shrub Field Identification" classes said they love being outside, working with plants, and working in their own gardens. Cardamone gives them plenty of that, ensuring that the three classes she teaches – she also teaches "Native Plant Communities" – all have substantial time outside.
During the Mt. Auburn outing in November, Cardamone led the students to different spots in the cemetery – as well known for its trees and birds as it is as a burial place. At each stop, the class provided the analysis of designs as different as greenery beds in front of the cemetery's office building and a tall pine grove enclosing a winding stone path.
In their analyses, students spoke of color and value, of scale and proportion, and of texture and rhythm. They touched on leaf size and plant color. They talked about whether a particular ground cover would detract from plants intended as focal points, they talked about rocks used as landscape elements and trees as frames. In short, they talked like landscape designers.
"It's hard when they're new to the field. They don't know how to analyze a site. They know what they like and what they don't like, but they don't know the language," Cardamone said.
Satisfy the spirit
For the students, a class such as "Design I" provides that first inside look at something they already love. Whether their aim is a new career or cultivating a home garden, they're paying attention and soaking up all they can.
"I've done gardening all my life and I'm at a point where I'm looking for a career that's more spiritually satisfying," said Elizabeth Solomon, who works as a program manager at the School of Public Health. Solomon said she's taking a second course in the use of perennials and would like to finish the program that leads to a graduate certificate in landscape design.
"I love it. It gets you to think about your creativity in a structured way that you can actually use," Solomon said.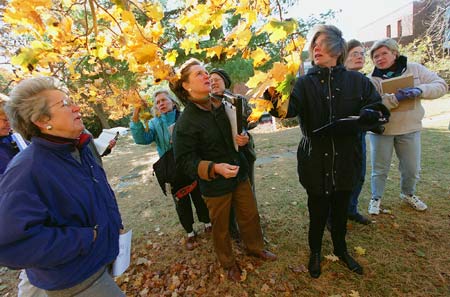 Amy Dezurik of Cohasset, who was in Cardamone's tree identification class last fall, said she hopes to start her own landscape design firm. Dezurik, who worked for 12 years as a psychotherapist to abused and neglected children in Minnesota, said she started taking horticulture classes four years ago after deciding she'd had enough as a psychotherapist.
"The system strangled me," Dezurik said. "I had taken a horticulture class in high school and I loved it. It's an incredible art form because you're dealing with living things."
Rowena Nelson, in Cardamone's "Design I" class, isn't planning any career changes, but she does have plans to transform the small garden at her Arlington home.
"I love to garden and I see myself doing it for the rest of my life," Nelson said. "[The class] really opens up new ways of looking at what I want to do."