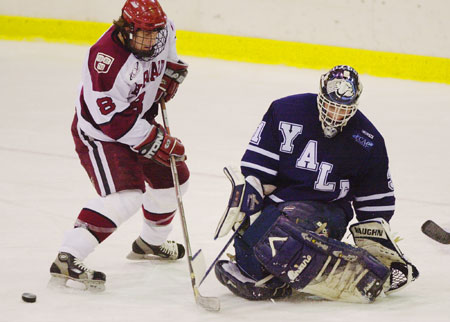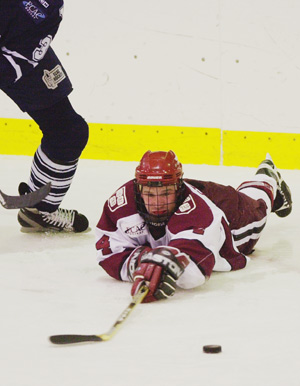 After matching archrival Yale goal for goal throughout two periods last Saturday night (Jan. 12) at the Bright Hockey Center, the Harvard men's hockey team dominated the final stanza, scoring two consecutive tallies to earn a 4-3 victory. The game had the look and feel of a wild playoff battle, complete with a second-period melee.
Down 2-1 with just under nine minutes remaining in the second period, Harvard's fortunes shifted when Dominic Moore was granted a rare penalty shot after a Yale defenseman was called for covering the puck in the crease. Moore whizzed the rubber past Yale goalie Dan Lombard, converting the one-on-one opportunity to even the count at 2.
Harvard commenced its takeover midway through the final period with a man advantage when sophomore winger Tyler Kolarik ripped a shot past Lombard. With the goal, Kolarik's fifth of the year, Harvard took a 3-2 edge. Five minutes later, and again in a power-play situation, junior Brett Nowak deposited a loose puck past Lombard to ice the contest, increasing his season tally to a team-leading nine goals. Though the Bulldogs managed a last-gasp goal with just 40 seconds to go, Nowak's final goal secured the win.
With the victory, the Crimson improves to 9-6-3 overall and 7-3-2 in the ECAC – extending its first-place lead over second place Yale (5-10-2, 5-5-2 ECAC) by six points – while keeping its home dominance against the Bulldogs in check, who haven't won on Harvard's turf since the 1997-1998 season.
Off for two weeks for exams, the Crimson return to the ice on Jan. 26 for an exhibition game against the U.S. Jr. National Team, before resuming conference play on Feb. 1-2 against Cornell and Colgate.