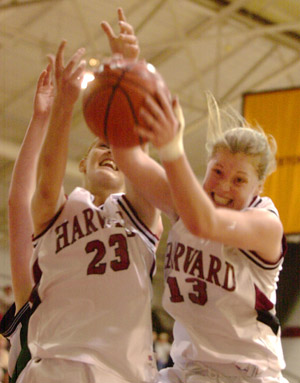 The present Ivy League Player of the Week, Harvard forward Hana Peljto '04, made a strong case for Player of the Year candidacy last Saturday night (Jan. 5) at Lavietes Pavilion. The second-year forward (who happens to be last season's Ivy League Rookie of the Year) poured in a career-high 36 points in an 88-77 winning effort over Dartmouth (4-7, 0-1 Ivy). Peljto also grabbed 11 boards in the contest, which was the Ivy League opener for both the Crimson and the Big Green.
Although Dartmouth managed to cut a 12-point halftime lead to two buckets with less than six minutes remaining in the game, the Crimson offense proved too hot to overcome.
Senior guard Jennifer Monti nabbed her first double double of the season, dishing out 10 assists and scoring 15 points, while teammate Reka Cserny '05, coming off a 33-point performance over Manhattan College on Jan. 2, chipped in 15 points and eight rebounds for the Crimson. The freshman forward from Budapest, Hungary, is currently enjoying her fourth selection this season as the Ivy League Rookie of the Week.
With the win, Harvard's third straight, the team improves to 9-4 overall and 1-0 in the Ivies. The Crimson travel to Princeton (7-5, 1-0 Ivy) on Friday, Jan. 11, before a stop at Penn (3-8, 0-1 Ivy) on Saturday, Jan. 12.