Every Saturday morning, country music gets an Ivy League shine … and Harvard goes just a little bit hillbilly.
That's when the banjos and barn-dances of Hillbilly at Harvard, one of New England's best-loved, most respected, and longest-lived country music radio shows, take over the microphones of WHRB (95.3 FM), Harvard's student-run radio station.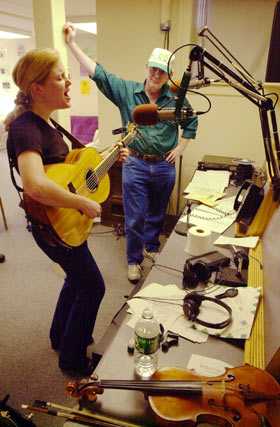 Hillbilly? At Harvard? The oxymoron rings as clear as the thwacked hubcap that gongs the start of each four-hour program. Straddling adventurous jazz on one side of their time slot and the weekly Metropolitan Opera broadcast on the other, "Hillbilly at Harvard" might seem a bit out of place in the WHRB schedule.
Yet long-time hosts Brian "Ol' Sinc" Sinclair '62 and "Cousin Lynn" Joiner '61 are right at home — with each other, with their listeners, and most of all with the traditional country music they share each week.
Both dressed in flannel shirts, with Sinclair in a frayed cap and Joiner in his stocking feet, the pair orchestrates each week's program with well-worn familiarity. Their easy joking, duct-taped headsets, and laid-back spontaneity ("We're basically too lazy to do any work," Sinclair says), however, belie the on-air product: a broadcast lauded and listened-to for the hosts' enlightening banter and impeccable selection of music.
Saved by a poker game
The "Hillbilly at Harvard" legacy began in 1948, when country music ruled the airwaves and its rootsier cousins — bluegrass, old-time, Cajun, Tex-Mex — had barely begun to seep out of the mountains and bayous and into the ears of American music lovers. That year, Dwight Benton "Pappy Ben" Minnich '51 launched a show called "Barn Howl" on WHRV, a precursor to WHRB, that was heard only on the Harvard campus.
Joiner and Sinclair have a tag-team history with the show that dates back to 1960, when Joiner hosted "Saturday Morning Jamboree," an all-bluegrass show that aired just before "Hillbilly" on Saturday mornings. Sinclair's initial involvement was by association only: In the early 1960s he supplied the records from his extensive collection but his roommate did the show.
After graduating from Harvard, the co-hosts were roommates at the University of North Carolina. Although they enrolled as graduate students in anthropology (Joiner) and linguistics (Sinclair), they made music their unofficial major.
Joiner, who introduced Sinclair to fiddle conventions in North Carolina, is a Maryland native whose tastes lean more toward bluegrass and old-time string band. "I had to seduce him into listening to country," says Sinclair, a fan of country and western music since his childhood in rural Maine. He made a convert of Joiner after taking him to a show that paired honky-tonk greats Buck Owens and George Jones.
When they returned to Cambridge in the mid-1960s, Joiner and Sinclair learned that WHRB was considering canceling "Hillbilly" for want of hosts. At a regular Thursday night poker game, the two joined a rotating committee that rescued the show from hillbilly history. Sinclair went on the air for the first time in 1966, and by 1975, when Joiner returned from a hiatus that included two years in Nepal, the duo united as an on-air team.
Good old-time country music
"It's time to remind you that you're listening to the very best in that good old-time, down-to-earth country music, right here on hillbilly radio for eastern New England, WHRB, Cambridge Country."
Controlled chaos rules Cambridge Country, although Sinclair and Joiner might take issue with the word "controlled." Guests stop by, phones ring, one-liners fly, songs are selected by committee only moments before the previous track.
"Got anything cued up?" asks Joiner, surveying the piles of CDs, LPs, and 45s strewn about the studio and stacked in the boxes that comprise a portable record library of sorts.
"We've got 17 seconds," Sinclair responds casually, offering up "Three Chords and the Truth," an homage to the simple elegance of country music by relative newcomer Sara Evans. The hosts croon along as Bill Kirchen sings the trucker favorite "Dim Lights, Thick Smoke and Loud, Loud Music."
"Should we give away the secret formula?" Joiner queries his co-host, glancing at the guests who pack the tiny studio.
Sinclair agrees, and they divulge Hillbilly's pattern: one bluegrass, old-time, or Cajun number to every two traditional country tunes. They also announce every song before and after they play it, a method that hearkens back to top-40 AM radio but is out of vogue today. "We do that deliberately, to give people the information, but we try to do it in an entertaining way," says Joiner.
The hosts' antics, while suitably amusing, don't obscure their deep knowledge of country music. "These guys have developed a musical breadth and depth … yet they're so natural in their presentation that they don't overwhelm their listeners," says David Elliott '65, chairman of the WHRB board of trustees.
Befitting their Harvard home, Sinclair and Joiner are as selective as they are scholarly. "The universe of things we won't play is much larger than what we will play," says Joiner of the discriminating standards that have buoyed the program's popularity.
"We've always said we'll play anything that we considered country," says Sinclair, admitting that they define "country" much more traditionally than commercial radio. "But our horizons are much broader now." There was a time, he says, when western swing, with its horns and saxophones, didn't make the cut. And they've relaxed — but not completely dispensed with — the "strings and choruses" rule that banishes slick productions characterized by lush string sections and big choral beds.
"But when the fiddles start being violins, they ain't getting on," chimes in "honorary hillbilly" Larry Flint, a local songwriter and musician who stops by regularly to help out.
Live from Studio B
If a recent Saturday morning is any indication, hosting "Hillbilly at Harvard" is not a lonely job. Joining Sinclair, Joiner, and Flint in the studio are Gordy Brown, founder of the New England Country Music Historical Society and supplier of old records and little-known facts, and singer/songwriter John Lincoln Wright, a stalwart of the region's country music scene for decades.
Wright has an advance copy of his latest CD in tow, and Sinclair and Joiner eagerly play cut after cut as Wright crowds into the mike to provide running commentary. A song called "Sonnet 73," which sets the Bard's poetry to country music, "proves that Shakespeare was a hillbilly writer," says Wright.
The show has a long-standing commitment to local artists like Wright. "There's great music being made here that's not being recognized," says Sinclair.
"'Hillbilly' always manages to make local people look as good or better than they are," adds Flint. "You guys are especially gracious to up-and-coming kids." Indeed, Flint fields several calls that morning from local country and bluegrass musicians promoting their Saturday-night gigs.
Two other locals are among the throng in the busy studio that Saturday, waiting their turn to perform live from WHRB's Studio B. Cambridge violin maker Bob Childs is talking up Childsplay, the annual concert he describes as a "family reunion" of about 30 of his creations and their owners. Joyce Andersen, a singer, songwriter and fiddler from York, Maine, plays one of Childs' "kids" and promotes her own upcoming concerts.
Sinclair interviews them both with warmth and wit. "Sinc does a very good interview. He's got a real skill," says Flint. Sinclair humbly agrees: His encyclopedic knowledge of country music's deep roots and far-flung branches wins the respect of the show's guests while his easy charm relaxes them.
Despite the primitive setting of Studio B — scattered with futons and boxes of LPs, it looks like a dormitory common room with a pair of microphones hastily hung in the corner — live performances and interviews are a hallmark of "Hillbilly at Harvard."
Joiner and Sinclair reel off a who's who of traditional musicians who have stopped by WHRB on their New England tours: young Texan swingers the Hot Club of Cowtown; Cajun old-timer D.L. Menard, and up-and-comers Charivari; and bluegrass favorites Ralph Stanley, the Johnson Mountain Boys, Rhonda Vincent, Hot Rize, and Peter Rowan, among many others.
"One of my favorite interviews was sitting here drinking bourbon at noontime with Guy Clark," says Sinclair of the Texas songwriter. On the other hand, he says, "we've done incredibly awful things to the James King Band," a bluegrass band that performed live from the station's smaller studio. "These six big sweaty guys were locked in that room with the door shut; it was about 200 degrees," Sinclair says.
'Not a tiny audience'
"Hillbilly at Harvard" is and always has been strictly a volunteer proposition. Joiner, who once ran Northeastern Records, now makes a living as the business manager of a medical practice. Sinclair has been on the Harvard payroll since the 1970s; he's currently senior data consultant in Harvard's Office of Human Resources.
They haven't sold out, they joke, because no one's offered. "We've made open public pleas on the microphone for payola … and nobody calls," says Sinclair.
While they may not offer cash, their fans make themselves known, calling steadily to request music, ask questions, win contests, or just chat with the hosts. Although WHRB does not subscribe to formal audience measurements such as Arbitron ratings, listener feedback tells the station that "Hillbilly at Harvard" is among its most popular programs. "It's not a tiny audience," says board chairman Elliott.
"We can light up the phone lines for 10 minutes" with a contest, says Joiner. "We have regulars who call in and we recognize their voices." Since WHRB started live streaming on its Web site (http://www.whrb.org), "Hillbilly" does a brisk business on the Internet, bringing in requests — and new audiences– from around the country.
It is the many fans, in part, that keep "Hillbilly" going. Despite their decades of service, Cousin Lynn and Ol' Sinc have no plans to hang up their headphones. "We've got nothing better to do on Saturday mornings," Joiner quips.
Sinclair is only slightly more reflective. "It must be fun," he shrugs.
From Opry to opera
As one o'clock approaches, the Harvard hillbillies gradually cede their hoedown to more familiar WHRB fare. Joiner announces the afternoon's broadcast of the Metropolitan "Opry." Sinclair runs down the clock with a breathless calendar listing, a seemingly desperate attempt to ensure that any country music in the area is duly promoted.
Flatt and Scruggs' "Randy Lynn Rag," "Hillbilly's" closing theme, finishes the show with rapid-fire bluegrass picking, and a student slides in front of the microphone to spin classical discs. Flatt and Scruggs fade and Handel's "Water Music" swells, exorcising any lingering hillbilly spirits from the studio. But next Saturday, they'll be back.
Contact Beth Potier at beth_potier@harvard.edu