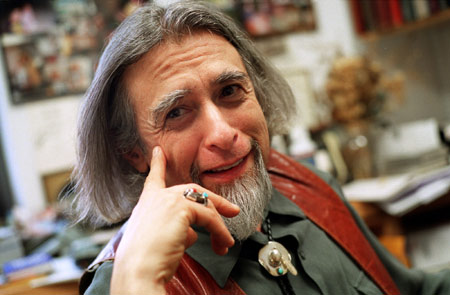 From the underwater magic of the Great Barrier Reef to New Mexico's colorful mesas and the castles of Prague, some Harvard administrators expanded their vistas far beyond their office windows last year, thanks to the Faculty of Arts and Sciences' (FAS) Administrative/Professional Prize.
"There were a lot of 'wow' moments," said Lenny Solomon, research program manager in the Division of Engineering and Applied Sciences and a 2000 recipient of the prize, that consists of $5,000 plus one month's paid leave that must be used for travel. This past August, Solomon visited Native American sites and pueblos in New Mexico with his wife, his adult son, and the family's toy poodle, tellingly named Hopi Kachina.
Solomon, whose wife nurtured his interest in Native American culture more than 30 years ago, had not visited New Mexico since 1971. The prize encouraged him to turn a brief trip to Los Alamos for a family wedding into a longer excursion, traveling the region's back roads in an enormous white Ford van.
Solomon described the drive from Ratón to Taos, in the northern part of the state, as one of the trip's highlights. Along the Cimarron River, he said, "you see these dramatic, multicolored swaths cut through the mountains."
The FAS Administrative/Professional Prize, given every two years, was founded in 1994 by an anonymous Harvard College alumnus and his wife to honor up to four administrative and professional FAS staff members who have at least five years of University service and are in positions that are currently exempt or were exempt as of July 1, 2001.
While prizes and sabbaticals are common for students and faculty, they're relatively rare for the administrators who support the work of these scholars. "It really is a great thing that this donor was able to recognize the work of administrators," said Lee McIntyre, special assistant to the executive dean of FAS and a member of the prize committee.
"I think it's a wonderfully imaginative piece of generosity," said Dwight Miller, senior admissions officer and a recipient of the 2000 prize. Miller traveled through Europe for nearly five weeks this past September, making leisurely stops in Tuscany, the French countryside, Prague, Devonshire in England, and Amsterdam, where he "overloaded on Rembrandt and Van Gogh," he said.
Miller, a 35-year veteran of Harvard, used University connections to deepen his experience. In Prague, he stayed with the newly appointed U.S. ambassador Craig Stapleton '67, who was a Harvard proctor with Miller early in their careers. He also connected with Bill Lobkowicz '84, who comes from a prominent Czech family and is in the process of reclaiming his family's heirlooms – including trinkets like castles and letters from Beethoven. "Everyone says 'You have to go to Prague,' and they're right," said Miller.
Prize winner Andrea Zirman, manager of financial and human resources reporting, data and security for FAS, traveled to Thailand and Bali in November 2000. "It was absolutely incredible," she said. "Each place that we'd go to kept getting better and better."
Northern Thailand, with its mountains and many tribes, stands out as a highlight for Zirman. In one village, she said, she had separated briefly from her companions when an old woman approached her and led her around the village. "We obviously didn't speak a word in common, but she was taking me around by the hand," said Zirman. "It may sound insignificant, but it was this really interesting slice of life."
For Catherine Cezeaux, director of administration in the department of government, figuring out where to spend her prize money was a challenge. She pondered Scandanavia, India, Turkey, Morocco, Africa – "everything you can imagine," she said. She settled on Australia after seeing a great deal on Quantas airlines. "I now have a new measure for airplane flights," she said, calling the Los Angeles to Sydney leg a "six-movie, three-meal flight."
In Australia, Cezeaux visited Sydney and Melbourne, snorkeled the Great Barrier Reef and saw herds of kangaroos. "I could have stayed another month," she said.
Lawrence Buell, Harvard College Professor and the John P. Marquand Professor of English, nominated Cezeaux, who formerly worked in the English Department. Reading his nomination of her was an unexpected high point of the prize. "Often as an administrator, you're moving paper from one side of your desk to the other," she said. "It was very gratifying to know that I made a difference."
Nominations for the FAS Administrative/Professional Prize must be submitted to the FAS Administrative/Professional Prize Committee, c/o FAS Administrative Dean's Office, Second Floor North, University Hall, by Feburary 8, 2002. Contact Lee McIntyre at lee_mcintyre@harvard.edu for nomination forms.