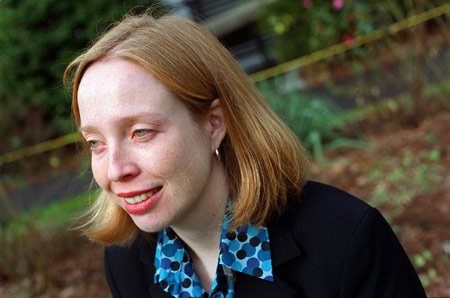 Whitney Espich, a former manager at Citigate Cunningham and the former communications officer at Monticello, has been appointed director of communications at the Radcliffe Institute for Advanced Study.
"Whitney Espich brings an impressive blend of experience, intellect, and commitment to women's issues to the director's position," said Tamara Elliott Rogers, associate dean for Advancement and Planning. "I look forward to working with her and our communications team in advancing the Institute's mission in new and creative ways."
Espich came to the Radcliffe Institute from Citigate Cunningham, an international public relations agency with offices in Cambridge, catering to technology clients. As a team leader, she managed a significant staff and budget, as well as developed strategic programs for divisions of Sun Microsystems, Sybase, and U.S. Steel.
"I am very happy to return to the nonprofit world and to be involved in the new era of the Radcliffe Institute for Advanced Study," said Espich. "As director of communications, I look forward to using my expertise to advance a mission about which I feel passionately."
Espich began developing her expertise in communications during her undergraduate years at Indiana University. For three summers, she worked as a public relations assistant at Newport News Shipbuilding, writing and editing publications.
In 1995, Espich became assistant director for media relations at Mary Baldwin College. In addition to handling media responsibilities, she supported the vice president for college relations during the institution's involvement in the U.S. Supreme Court's litigation surrounding single-sex education.
From 1997 to 2000, Espich was the communications officer at Monticello (Thomas Jefferson Foundation), where she handled all media relations and print publications and oversaw the production of support materials for a $100 million fundraising campaign.
Espich received her bachelor's degree in English and a certificate in environmental studies from Indiana University, Bloomington. She earned a master's degree in moral philosophy from St. Andrew's University in Scotland and a second master's degree in English from the University of Virginia, Charlottesville. Espich resides in Cambridge. She began her new duties on Nov. 26.