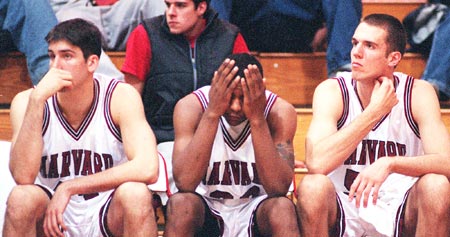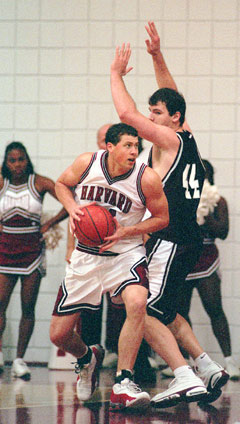 A 17-point performance by junior guard Patrick Harvey wasn't enough to lift the Harvard men's basketball team over visiting Colgate last Saturday (Dec. 8), as the Crimson lost the contest, 76-64. Harvard drops to 4-3 with its second straight loss.
Harvey's 7-of-11 shooting and three three-pointers paced a Crimson team that found itself steadily trailing the Raiders (5-2) soon after tip-off. Harvard cut the margin to 57-51 with six minutes remaining, yet a 10-2 Raider run sealed the Colgate win.
Senior captain Andrew Gellert kicked in 11 points, two assists, and two steals in the effort, while senior center Tim Coleman scored 10 points and grabbed four boards. Last year's Ivy League assist leader, guard Elliott Prasse-Freeman '03, dished out five helpers in the contest, surpassing No. 4 assist leader Mike Gielen '89 with his 392nd career assist.
Harvard opens the season's Ivy action this Saturday, Dec. 15, at 2 p.m., hosting a 4-2 Dartmouth team.