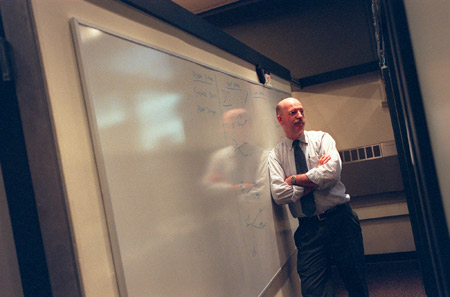 Acknowledging the essential role that technology plays in all aspects of museum work today, the Harvard University Art Museums (HUAM) has announced its first-ever appointment of a director of digital information and technology.
Sam Quigley, the Art Museums' new director of digital information and technology, is a former curator who developed and ran the 400,000-object collections information database at the Museum of Fine Arts, Boston, and who most recently served as director of collections at the San Francisco Museum of Modern Art.
He was appointed to the Harvard position last spring as part of an initiative to digitize the wealth of research, scholarship, and activity at HUAM.
"Sam is a critical part of our effort to make textual and visual information about our collections accessible via the Internet to a global community of students, faculty, curators, scholars, and the public," said James Cuno, Elizabeth and John Moors Cabot Director of the Harvard University Art Museums.
The Art Museums are working to enhance the existing database and create a comprehensive digital record for each of the more than 150,000 paintings, drawings, photographs, sculpture, and other objects contained in the collections. Curators, students, and others will ultimately be able to access images and textual information for many of these objects through Harvard's Visual Information Access (VIA) Web-based initiative.
"The fundamental element of good collections management is the dissemination of accurate information – to provide good and appropriate access to any number of publics," said Quigley.
"We want to provide a high level of support to the educational mission of the University."
To that end, Quigley oversees four teams within the Department of Digital Information and Technology: collections information management, visual resources, network and systems, and applications development and support.
"Everything we do will be focused on redoubling our own internal intellectual resources as well as providing appropriate external access," Quigley said.
One of the tasks Quigley will supervise is transferring tens of thousands of negatives, films, and transparencies to a digital format so that every existing image of works in the museums' collections will be cataloged and available to staff and students. His staff will also work on a grant-funded initiative to systematically catalog, digitize, and make available via the Web the world-renowned collections of Asian art in the Arthur M. Sackler Museum.
"This is a moment that's very exciting in the museum world," said Quigley. "Every one of us is looking to harness these amazing technological tools for our own purposes. The University, this year, admitted freshmen who grew up since the World Wide Web came into being. They expect to have information delivered in ways we can barely imagine right now – and we plan to be ready."
Quigley has written extensively on museum automation and is on the board of directors of the Museum Computer Network. He worked at the Museum of Fine Arts, Boston, for 20 years in a variety of positions including manager of collections information, keeper of musical instruments, associate curator of European decorative arts and sculpture, and director of collections for the San Francisco Museum of Modern Art.
Quigley holds a master's degree in musicology from Wesleyan University, where he began a lifelong passion for Javanese music, and has studied Indonesian languages at Yale.