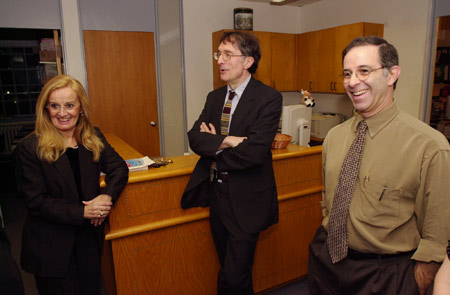 From research laboratories to business enterprises to string quartets, groups provide powerful contexts for learning.
When researchers at the Harvard Graduate School of Education's (GSE) Project Zero wanted to explore how people learn and work together in groups, they went to northern Italy – and not just because "it's a very civilized part of our planet," as researcher and Hobbs Professor Howard Gardner said.
Rather, Project Zero was there to partner with the preschools of the province of Reggio Emilia, internationally acclaimed for their innovative pedagogy. Researchers from both countries presented their findings – detailed in a new book, "Making Learning Visible: Children as Individual and Group Learners" – Thursday evening (Dec. 6) in an Askwith Education Forum at GSE. The book looks at documentation in the context of individual and group learning.
Carlina Rinaldi, director of early childhood education for the Reggio Emilia schools, joined Gardner, Project Zero director Steve Seidel, and "Making Learning Visible" project director Mara Krechevsky for a discussion and demonstration of their findings.
Gardner, who has been involved with Reggio Emilia schools for two decades, introduced the research by imploring the audience to do away with their preconceptions about early childhood education. "You may think that learning is necessarily individual, but it's not," he said. What's more, assessment of learning is not necessarily tests, and documentation need not be private. "It can be an intrinsic and magnificent part of learning," said Gardner.
And preschoolers, he said, "are not fickle dilettantes. They have an incredible potential to focus, to concentrate, to spend weeks, even months on a topic."
Seidel and Krechevsky amplified the project's research with further illustration of the power of group learning and documentation. "Our hypothesis was that documentation not only allows us to make visible the dynamics of individual and group learning, but also is itself a tool that can promote individual learning within the group as well as learning by the group as a whole," said Seidel.
Seidel presented several visual essays – photos and narration – showing preschoolers at Reggio Emilia learning in groups.
In the first, three children of around 1 year old are placed in a room that the teachers have transformed by covering the floor with large strips of roll paper strewn with markers. Almost immediately, the children surprise their observers: Matteo, with the help of Elisabetta, pulls off a piece of paper and rolls it into a tube. Erika joins the two and succeeds in inserting a marker into the tube. Together, the trio makes a game of putting markers into the tilted tube and watching with satisfied glee as they emerge out the other end.
In another visual essay, three 5-year-old boys draw their city, Reggio Emilia. Their collaboration not only produces an elaborate map of their world, it teases out new ideas and discussion about how their city works.
Krechevsky brought the discussion of group learning back to the United States, where, she said, learning may be done in groups but assessment is individual. "What would it mean to document and assess group learning?" she posed. "What happens at the intersection of group learning and documentation?"
Documenting children's learning process, the researchers found, helps to make learning visible and can shape the learning. "Children have a chance to revisit their work and ideas, to grow on them, to prepare them, to hear what others think, and to deepen and extend their learning," said Krechevsky.
Rinaldi, who is spending a year in the United States as a visiting professor at Webster University in St. Louis, presented the perspective of all the Reggio Emilia teachers involved in the research. "We all together have learned a lot from this research," she said. "We had the opportunity to go deeper into documentation. We learned more about the power of visual language, and the power of visual and verbal language combined."
Documentation, said Rinaldi, is more than simply assessing or displaying the work of the children. "One of my definitions of documentation is that it is first of all an act of love," she said.