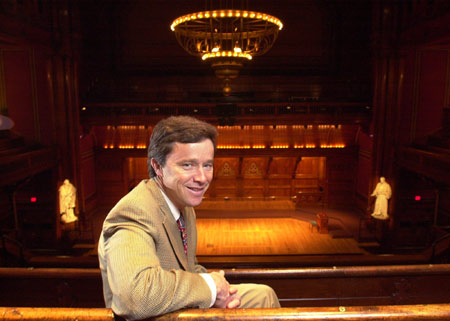 Jack Megan, the new director of the Office of the Arts (OFA), is a multitalented artist in his own right. A jazz pianist, composer, actor, and playwright, he has been a passionate devotee of the arts since childhood.
One might suppose that a person of such artistic flair would find a desk job confining, but Megan does not see it that way.
"I consider arts management to be a creative endeavor, one that's not disconnected from practicing art," he said.
Megan's insight into the creative nature of arts management came about while he was earning an MFA in arts administration from Columbia University. The program, which he describes as "empowering and life altering," taught him to think organizationally, acquainting him with such subjects as museum and theater management, strategic planning, board development, financial management, fundraising, collective bargaining, and a variety of other things.
"It convinced me that a critical aspect to having artistic work realized is understanding the economic and management aspects of art," he said.
After graduating from the program, Megan became development director for the Santa Fe (N.M.) Chamber Music Festival. It was his first job in arts management, and the responsibilities of the new position seemed almost overwhelming, but Megan had not taken it on unknowingly.
"It was a deliberate choice to get myself in over my head. I wanted to learn to do something I didn't know how to do. I knew that the ability to sell an idea and secure funding for it would be key to the success of most artistic endeavors. I figured the best way to learn how to get the capital was to just try doing it."
Megan flourished in the new position. Among his triumphs was negotiating a nationwide broadcast agreement with National Public Radio.
After three years in Santa Fe, Megan received an offer to become associate director (later executive director) of the Longy School of Music in Cambridge. He ended up staying 12 years, a time of expansion that saw the addition of new buildings, a growth in enrollment from 600 to 1,300, two successful capital drives, and the school's acquisition of degree-granting status (Longy now grants the master of music degree).
"I loved the work," Megan said. "I was eyeball-deep in art, I had daily contact with students, and it was a place where I felt I could have a real impact."
He eventually left to become program director for the Fidelity Foundation, administering grants in the arts, community development, medical research, and – to a lesser degree – education reform. He stayed a year and a half, long enough to discover that he missed the hands-on quality of working in an educational and artistic environment.
"I learned that I can't be disconnected from fostering other people's creative growth in a daily way," he said. "The Fidelity experience was extraordinary, and I have such admiration for that organization and my former colleagues there. It was simply a case of my learning what was most important for me in my professional life, and then making choices that were in closer alignment with my personal and professional priorities."
The opportunity to once again play a direct role in the creative process came in 2001, when he was offered the Harvard job.
Since arriving at Harvard in July, Megan has been awestruck by the number and quality of student artistic activities. "So much at Harvard is student-driven. They get so much done – it's staggering!"
Now that he has had a chance to familiarize himself with the range of student activities in the arts, he has been able to identify ways in which the Office of the Arts can enhance and further those activities.
For one thing, Megan would like to explore the possibility of providing access to professional artists in an ongoing way. He believes that the OFA's "Learning From Performers Series," in which well-known musicians, actors, and other performers visit Harvard for a period of days or occasionally weeks, giving lectures and conducting master classes for undergraduates, is a highly successful program, providing opportunities for students to gain valuable insights into performing at a professional level. But Megan would like to add another level to this contact between students and professionals.
"I'm interested in developing – or at least exploring the possibility – of programs which provide ongoing mentoring for young artists, not just over days or weeks, but over a considerably greater period of time."
Megan also plans to put more emphasis on nurturing student playwrights, composers, and visual artists, both by encouraging mentoring relationships between students and faculty, as well as between students and professionals in the field, and by giving student artists even greater opportunities to have their work seen or heard by the public.
Finally, he looks forward to giving students more help preparing for careers in the arts by organizing symposia to acquaint them with the realities of an artistic vocation and by facilitating contacts between students and alumni working in the arts. The idea for this initiative comes directly from Megan's own experience as a student at Holy Cross College in Worcester where he majored in English, but spent all his spare time participating in musical and theatrical productions.
"As an undergraduate, I lived in the theater," he said. "It was my passion. But after I graduated, I realized I had no clue about what it took to make a career in the arts. The Office of the Arts has a tremendous opportunity – one might even say an obligation – to educate and prepare undergraduates for a life in the arts, in the same way that pre-law or pre-med students are able to see the shape of a career in those fields before they embark on it."
In addition to guiding students into professional careers, Megan hopes to reach freshmen through new outreach efforts, providing information that will help entering students get involved with the artistic activity of their choice.
Megan, whose job ensures that he will be surrounded by artistic activity during working hours and often beyond, has no expectation of leaving the arts behind when he returns home. His wife, Sarah, is the head of the music department at the Middlesex School in Concord. The couple lives on campus with their young son and daughter, both budding musicians.
But for Megan, being unable to escape from music, theater, and the visual arts is no hardship. In fact, it is what he hoped for all along.
"Somehow, I came up with the illusion that I could make a life in the arts – and I still seem to be there."
Contact Ken Gewertz at ken_gewertz@harvard.edu