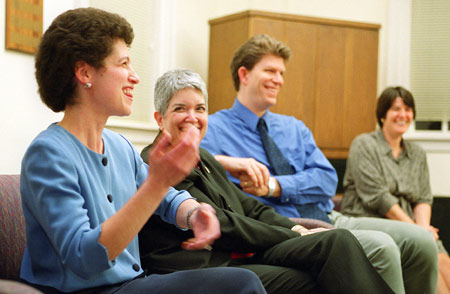 Find a nanny. Have a Plan B. Redefine success. Keep your priorities clear. Be flexible. Be creative. Laugh.
Four Harvard alumni dispensed advice on balancing successful careers with fulfilling family life at a panel discussion sponsored by The Ann Radcliffe Trust in Harvard College on Wednesday, Nov. 28. An audience of mostly undergraduate women and a few curious men listened and laughed as the panelists shared their experience, wisdom, and pratfalls of combining work and children.
Eleanor White '67, president of an affordable housing consulting firm; Margo Seltzer '83, Gordon McKay Professor of Computer Sciences; pediatrician Susan Laster '84; and Matt DeGreeff '89, assistant director of financial aid, senior admissions officer, and freshman proctor, presented a broad range of experiences.
White got married two weeks before her graduation from Radcliffe, which she said was not unusual in 1967. What was less common in that day was that she waited nine years, pursuing a career with the federal government, before having her first child. "That was a great good thing," said White, who has three sons between 14 and 25.
White, who is now president of Housing Partners Inc., cited a longtime nanny/housekeeper, a pared-down social life, and a Palm Pilot as sanity-savers.
Like the other panelists, she was upbeat but did not sugarcoat her experience. "Combining work and family is never easy – if anyone ever tells you it's easy, they're lying," she said. "On the other hand, as I look back, I would certainly not have missed my career, which has been incredibly satisfying, and I wouldn't have missed my sons, either."
Although expectations about women, careers, and families had certainly changed by the time Margo Seltzer had her first child, she found herself breaking new ground as a professor in a male-dominated field. Pregnant with her son, who is now 4 years old, she asked her dean if she could bring him to work with her after a maternity leave. As one of just two women in the Department of Engineering and Applied Sciences, Seltzer was asking a question that had never come up.
Her dean approved the in-office child care, which Seltzer gives high marks. Over the seven months that her son joined her in the office, she said, "he attended more faculty meetings than most faculty." Several years later, Seltzer brought her infant daughter to work. "I wouldn't have traded having the kids in the office for anything," she said.
Susan Laster, a pediatrician, had some cautionary words for the typically over-achieving Harvard students. "I had to come to terms with my own ambition," she admitted. Instead of pursuing the "triple threat" of academic medicine – practice, research, and teaching – she chose to be in a private practice because it gave her the time and flexibility to parent.
"You have to think about what your own definition of success is," she told the undergraduates. "There's a lot of soul-searching that goes on."
The lone male voice on the panel, freshman proctor Matt DeGreeff amused the audience with the story of his son being born on move-in day; his wife went into labor as parents of new freshmen knocked on their door in Greenough Hall. "Dean Nathans was out on the street taking bets on when Jeremiah would be born," he said.
While living on campus simplifies some aspects of their lives, DeGreeff and his wife struggle to find time for themselves and for their relationship. Between his son, his wife, his dog, and his freshmen, he said, "people want a piece of me all the time."
Students asked the panelists about managing ambition, looking to family for child care, and gender issues in parenting. "I think things have evolved, but I still feel like the gender roles are OK," said Laster.
"Being a mom and being a dad are different," Seltzer added. "One's not better than the other, but they are different. There are strong biological reasons, particularly with an infant, why they're different."
After the discussion, students lingered to talk one-on-one with the panelists. "I was really interested in child care and how they addressed it," said Rani Yadav '03, who hopes to pursue a career in management consulting or investment banking.
Pankaj Agarwalla '04, one of the few men in the audience, attended because "this is an issue that I think about a lot." As a 19-year-old man, he said, it was helpful to know that others like him were thinking about these issues. "The two things I want in life are to have a great family and to have a career," he said.