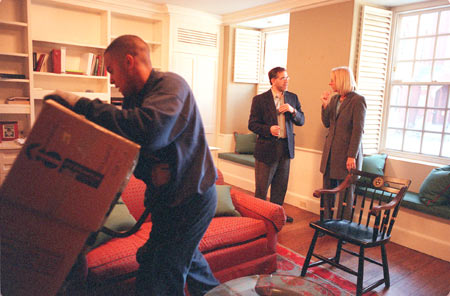 Provost Steven Hyman had barely arrived from Logan Airport for his first day of work Monday (Dec. 10) before he was off to a meeting. "I'm an old hand at this," he joked. "I've been here five minutes."
While Hyman's career as provost may have been only moments old, his Harvard experience spans 20 years. Most recently director of the National Institutes of Mental Health, Hyman attended Harvard Medical School (HMS) starting in 1976 and rose through the HMS ranks to become professor of psychiatry and the first faculty director of the Interfaculty Initiative on Mind/Brain/Behavior.
A quick look at his schedule revealed that Hyman is likely to attend more meetings in his first week as provost than in two decades of research, teaching, and seeing patients at HMS. "Do you think I'll need a tie?" he wondered aloud.
Hyman views his upcoming encounters with faculty members, vice presidents, and others in the Harvard community as crucial to his reorientation. "I want to understand what people are working on, hear what they're doing, hear what their ideas are," he said. "The most important thing for me is to listen to people." Exploring interdisciplinary initiatives and science literacy for nonscientists top his to-do list.
Before meeting faculty or tackling the University's agenda, however, Hyman busied himself with "the first order of business": displaying photographs of his three children in his Massachusetts Hall office. He will commute to Cambridge from his home in Washington, D.C., until June, when he hopes to have found a house here for his family.
Although he had barely touched down in Harvard Yard, Hyman spoke with the warm familiarity of one with deep roots. "It's great to be home," he said. "Public service is great, but it really is great to be back in academia."