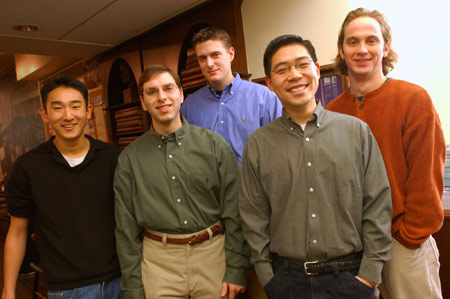 What do an Eagle Scout, a mountain climber, a concert pianist, a skydiver, and a Mormon missionary have in common? They're all Harvard students who have been named as Rhodes Scholars this year. After a day of final interviews and anxious waiting, the five students got the news on Saturday (Dec. 8) that they'd been chosen, giving Harvard the most Rhodes Scholars in the nation. This year's winners bring the total number of U.S. Rhodes Scholars at Harvard to 300. In addition, Harvard student Karin Alexander from Zimbabwe was named an International Rhodes Scholar (see "Alexander wins International Rhodes," this issue).
The scholars, all seniors, are Neil Brown, Albert Cho, Andrew Park, Robert Porter, and Stephen Sachs. They represent an eclectic array of academic interests, talents, and extracurricular activities.
The scholarship, endowed by the will of Cecil Rhodes, British philanthropist and colonial pioneer, will allow the students to study for two or three years at Oxford University. The Rhodes Trust will pay all academic fees and provide a stipend to cover expenses. The total value of the scholarship averages approximately $28,000, according to Elliot Gerson, American secretary of the Rhodes Scholarship Trust.
The U.S. winners were chosen from an initial field of 925 applicants representing 319 colleges and universities. Annually, only 32 students from the U.S. win the scholarship. Scholars are also chosen from 18 countries around the world.
The scholarships are awarded on the basis of high academic achievement, integrity of character, a spirit of unselfishness, respect for others, potential for leadership, and physical vigor. After Harvard's five winners, the United States Military Academy had three winners as did Duke University; and Yale, Princeton, and Stanford universities had two winners each.
From farm life to ethnic strife
Neil Brown, a second semester senior, can't wait to get home to St. Charles, Iowa, and relax on his family farm, where he hasn't spent more than two weeks in the last five years.
Brown, who lives in Mather House, took a semester off during the spring of his junior year and traveled to the Kingdom of Bhutan, a small country located in the eastern Himalayas. And he lived in a camp of Bhutani regugees in Nepal, conducting field research, research that ultimately turned into the Davis Prize winner for best sociology thesis. The experience, he says, changed his life and put him on the path to researching refugees and development at Oxford.
Rhodes Scholar is a title Brown never imagined attached to his name, but the "Room 13" peer counselor, and former employee of both the Harvard Institute for International Development and the Center for International Development seems to fit the mold quite nicely. The skydiver, bungee jumper and intramural crew participant certainly seems to have the "physical vigor" that Cecil Rhodes desired in his scholars.
Global traveler with a purpose
Last summer, the night before climbing Mount Kilimanjaro, Albert Cho ate meat laced with bacteria that kept him up all night vomiting. He climbed the mountain anyway with inadequate rented gear, huddling for warmth with a companion during the cold nights.
Cho, who lives in Adams House and concentrates in social studies, speaks about his adventure with all the understatement one might expect from Ernest Hemingway. The Tempe, Ariz., native is as humble as his accomplishments are laudatory. He lived in Mauritius last summer, where he interviewed government officials and business people about the ethnic diversity and economic development of the tiny Indian Ocean island. He completed an internship in Geneva with the International Centre for Trade and Sustainable Development. Three weeks ago he returned from the Middle East, where the World Trade Organization (WTO) launched a new round of trade talks. During his sophomore year, Cho got caught up in the protests and tear gas at the WTO conference in Seattle, where he met the man who offered him the Geneva internship.
Cho credits much of his success to luck, but clearly it has more to do with seeking out interesting people and seizing the right opportunities. He will research development studies at Oxford.
Teaching English to political refugees
Andrew Park did not need to travel to witness firsthand the effects of political upheaval and governmental oppression. Park's parents emigrated from South Korea to Chicago in 1977, and their struggle to make it has undoubtedly influenced Park both inwardly and outwardly.
As a leader of the Phillips Brooks House Refugee Youth Summer Enrichment Program, Park taught English to refugees from Vietnam, Somalia, and Kosovo. At Oxford, he plans to expand on his concentration in economics and study the economic outcomes of disadvantaged populations. He was a co-president of the Asian American Association at Harvard, where he promoted the understanding of Asian cultures and intercultural relationships.
An accomplished classical pianist, Park debuted with the Chicago Symphony Orchestra at 14, playing Rachmaninoff's Second Piano Concerto, and also won the Mozart Society concerto competition. Park has been absent from Harvard during the current and previous semesters, helping his family cope in the aftermath of his father's recent death. Winning the Rhodes Scholarship, Park says, only underscores his father's dreams for his children in America.
Like father, like son
Roger Porter, IBM Professor of Business and Government in the John F. Kennedy School of Government, has been a senior economic adviser during three Republican administrations. His son, Robert Porter, a government concentrator who lives in Adams House, is president of the Harvard Republican Club and was chairman of Harvard Students for Bush. He interned in the Senate after high school and completed an internship at the White House last summer, working for the Domestic Policy Council.
Roger Porter was a Rhodes Scholar, and now his son is, too.
After his freshman year, Porter took two years off to work as a Mormon missionary in London, where he held debates, offered lectures and organized seminars about the Mormon faith. Living in England for two years made Porter into somewhat of an anglophile, and he can't wait to return and study political theory at Oxford.
Growing up, Porter split his time between Belmont, Mass., and Washington, D.C. At Harvard, he helped develop the Partners for Empowering Neighborhoods program at Phillips Brooks House, where he has also served on the board of trustees. He hopes to break new ground with his thesis on the moral and political thought of C.S. Lewis.
Renaissance man
Stephen Sachs concentrates in history with a focus on medieval history. He works dozens of hours a week as a columnist and editorial chair at the Harvard Crimson. For the last two summers, Sachs has interned with the Democratic staff of the House Judiciary Committee. He has taught earth science and light and sound to elementary school students, and volunteered as a peer tutor teaching economics. Although focusing on medieval history, Sachs has also taken several high-level math courses at Harvard.
Oh, he's also an Eagle Scout.
Sachs, who hails from Clayton, Mo., and lives in Quincy House, says what he enjoys most is applying abstract ideas and theories to concrete outcomes. Writing memos and drafting amendments last summer for a House bill on cloning and stem cell research gave him a sense of how he might apply abstract reasoning to achieve tangible results.
At Oxford, he plans to read for a B.A. in philosophy, politics and economics. Ultimately, Sachs hopes to work for the Department of Justice at the Federal Appeals Court level.