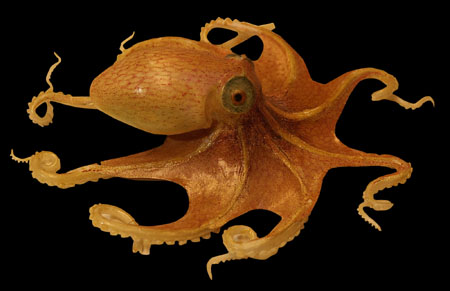 While the rarity and beauty of Harvard's Glass Flowers have won them fame and made them the Harvard Museum of Natural History's (HMNH) most popular exhibit, the glass animals exist in relative obscurity.
The glass animals are scattered in isolated display cases and in specimen drawers in different departments. Several are on display at the HMNH, as part of its exhibit "Dodos, Trilobites & Meteorites … Treasures of Nature and Science at Harvard" and as examples of the Blaschkas' early work in telling the story of the Glass Flowers.
"They [the glass animals] were great models, they were very elaborate," said Susan Rossi-Wilcox, curatorial associate in the Harvard University Herbaria and administrator of the Glass Flowers. "It's my impression that at the time, they were extremely well done. They were probably the best thing out there."
Rossi-Wilcox said though the glass animals highlight much of the same techniques and artistry as the Glass Flowers, they haven't been considered very special since they were initially acquired.
"They weren't exactly a dime a dozen. They were very expensive models [then]," Rossi-Wilcox said. "[But] the Blaschkas were making these things literally by the hundreds, even thousands. It'd be like going to a biological supply house now. You buy something plastic. If you break it, you buy another."
Consequently, Rossi-Wilcox said, there's never been an inventory conducted of Blaschka glass animal holdings in the United States. Harvard is thought to have one of the largest collections, but others exist at Cornell University, the Museum of Science in Boston, and the Academy of Natural Sciences of Philadelphia, according to a study of the Harvard collection published in 1978.
Less glass, more photos
Of course, today's students can study photographs to see what a creature looks like. They can view a video to see its behavior. Or study its growth with three-dimensional computer modeling. All that, combined with some questions as to the scientific accuracy of some of the glass animals, have all but eliminated any scientific value the models have.
"Now we have them more for their beauty, as an internal exhibit, than for any scientific purpose," Giribet said.