SPECIAL TO THE GAZETTE 12/10/01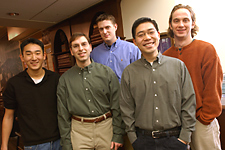 Five Harvard University students were selected as Rhodes Scholars, giving Harvard the most scholars in the nation, the scholarship trust announced Sunday, Dec. 9.
The winning Harvard students hail from all over the United States, coming from four of the eight geographical areas represented by this year's 32 Rhodes Scholars. The American scholars were selected from 925 applicants from 319 U.S. colleges and universities. The five placed by Harvard bring the University's total to 300 winners over the years, the most of any U.S. institution. The five students also placed Harvard in the No. 1 spot for 2002.
Created in 1902 by the will of British philanthropist Cecil Rhodes, the scholarships provide two or three years of study at Oxford University in England. Winners are selected on the basis of high academic achievement, personal integrity, leadership potential, and physical vigor, among other attributes.
The Harvard students chosen as Rhodes Scholars are:
Robert R. Porter, Belmont, Mass.
Andrew Park, Wheeling, Ill.
Neil R. Brown, Saint Charles, Iowa
Albert H. Cho, Tempe, Ariz.
Stephen E. Sachs, Clayton, Mo.
Also on the web:
Office of the American Secretary, Rhodes Scholarship Trust
http://www.rhodesscholar.org