SPECIAL TO THE GAZETTE 12/17/01
Edward Wagner, who taught Korean studies at Harvard for 35 years, died Dec. 7, 2001, at the Walden Rehabilitation and Nursing Center in Concord of pneumonia and other complications from Alzheimer's disease. He was 77.
Wagner's interest in Korea began during World War II when he was drafted in his sophomore year at Harvard and sent to Seoul. He served as part of the military government set up by the United States to help South Korea make the transition back to independence after 35 years of Japanese domination. In a 1993 interview, Wagner said: "I was very taken with the Korean people. They were extraordinarily kind and very interesting. Of course, considering the state that the country was in at that time, the people were really the only positive aspect to being there."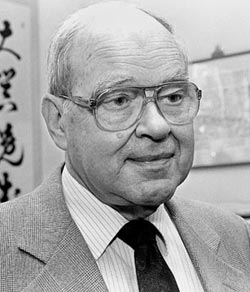 Returning to Harvard, Wagner earned his A.B. degree in 1949. He remained at the University, earning his A.M. degree in 1951 and Ph.D. in History and East Asian languages in 1959. He began teaching at Harvard in 1958 and continued until his retirement in 1993.
Carter Eckert, professor of Korean history and director of the Korea Institute, said, "Ed Wagner was the most important figure in the early development of Korean studies, not only at Harvard but in North America generally. He was a meticulous scholar, whose work transformed our understanding of late pre-modern Korean institutions and society and laid the groundwork for all subsequent studies of Korean history in this country.
"He was an extraordinarily engaging and generous teacher and colleague, whose office door was always open. He was also the first director of the Korea Institute at Harvard and responsible for the establishment of the institute's well-known Korea Colloquium, a forum for regular scholarly presentations and discussions on Korea."
The major scholarly project of Wagner's career was a detailed study of the 14,607 men known to have passed the civil service examination during Korea's Choson dynasty (1392-1910). The records of this period, which are remarkably complete and include such data as birth date, place of residence, ancestral lineage, marriage connections, career summaries, and anecdotal material, allowed Wagner to achieve significant insights into the social and political dynamics of Korean society.
In the course of this work, known as the Munkwa Project, Wagner was responsible for transferring the entire archive into digital form and making it available to scholars on CD-ROM. He was awarded two cultural awards by the Korean government for this project, and was often consulted by Koreans looking for information on their ancestors.
Wagner founded the Korea Institute and served as its director from 1981 to 1993. He was the recipient of numerous fellowships, including a Fulbright. He leaves his wife, Namhi Kim Wagner; two sons, Robert Camner and J. Christopher Wagner; three stepdaughters, Yunghi Choi, Sokhl Choi, and Sanghi Choi; a brother, John Wagner; and four grandchildren.
A memorial service will be held at Harvard in April.