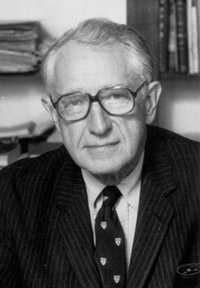 Francis Daniels Moore, former surgeon-in-chief at Brigham and Women's Hospital (BWH) and the Moseley Professor of Surgery Emeritus at Harvard Medical School (HMS), died on Nov. 24 at the age of 88. In 1954, Moore was a member of the surgical team that performed the world's first successful human organ transplant – the transference of a kidney between identical twins.
Hailed as one of the greatest surgeons of the 20th century, Moore was a pioneer and leader in the development of new surgical methods for operative surgery, organ transplantation, and perioperative care.
"Dr. Moore was a champion of innovation throughout the medical profession," said BWH chief medical officer, Anthony Whittemore. "A myriad of medical advances can be attributed to his active encouragement of collaboration between surgical and medical physicians."
Moore was born in Evanston, Ill., in 1913. He attended the North Shore Country Day School in Winnetka, Ill., and graduated from Harvard College in 1935. As an undergraduate, Moore was president of both the Harvard Lampoon and the Hasty Pudding Club.
He received his medical training at Harvard Medical School, and completed his residency at Massachusetts General Hospital (MGH). During his residency, Moore was awarded a National Research Council Fellowship that enabled him to work at Huntington Memorial Hospital and begin what would become a lifelong interest – research on radioactive isotopes in physiology and clinical care of acute illness, injury, and convalescence.
After brief stints as an attending surgeon at both MGH and at the BWH's forerunner, the Peter Bent Brigham Hospital (PBBH), Moore was appointed surgeon-in-chief at PBBH and Moseley Professor of Surgery at HMS in 1948. He held these dual appointments for 28 years, and remained professor of surgery at HMS until 1981.
As surgeon-in-chief at the Brigham, Moore defined the field of surgical metabolism and guided the hospital though epochal advances in organ transplantation and open-heart surgery.
Having treated many victims of the infamous Cocoanut Grove Night Club fire in 1942 and seen first-hand the ravages burns can take on the body's metabolic system, Moore focused much of his research on body composition and surgical metabolism. He pioneered a new method for determining the volume of water and the weight of dissolved salts, sodium, and potassium in the body. His work in metabolism progressed to improve nutrition and the care of surgical patients after extensive operation and multiple injury. His book "The Metabolic Care of the Surgical Patient," published in 1959, was long a standard in the field.
"Francis Moore was one of the giants in the field of surgery during the 20th century," said Joseph B. Martin, dean of the Harvard Faculty of Medicine. "His work on the metabolic changes that occur during surgery has extended the lives of many thousands of people around the world."
Moore published several hundred scientific papers and six books, and was a member of many surgical and scientific societies. He was president of the Society of University Surgeons in 1958, of the Boston Surgical Society in 1969, and of the American Surgical Association in 1971. He was chairman of the Surgery Study Section of the National Institutes of Health (1956-59), and was elected to the National Academy of Sciences in 1981 and the American Philosophical Society in 1998.
Moore was long a consultant on the care of the severely wounded for the Surgeon General of the United States Army. He was the recipient of many honors including the Bigelow Medal of the Boston Surgical Society, the Samuel Gross Medal of the American Surgical Associations, and the Nathan Smith Award of the New England Surgical Society. He was an Honorary Fellow of the Royal College of Surgeons in London, and was awarded the Lister Medal of the Royal College of Surgeons of England in 1978.
In 1995, he published his autobiography, "A Miracle and A Privilege: Recounting a Half Century of Surgical Advance" (Joseph Henry Press).
In 1935, Moore married Laura Benton Bartlett of Winnetka, Ill. After her death in 1988, he married Katharyn Watson Saltonstall of Exeter, N.H., and Marion, Mass. They lived in Marion and Westwood, Mass. He is survived by his wife, Katharyn, by a sister, Harriet Moore Gelfan of Brattleboro, Vt., and by his children: Nancy Moore Hill of Exeter, N.H., Professor Peter B. Moore of New Haven, Conn., Sarah Moore Warren of Grafton, Vt., Caroline Moore Tripp of New York City, and Francis D. Moore Jr. of Medfield, Mass. Moore is also survived by 17 grandchildren and four great-grandchildren.
A memorial service will be held at the Memorial Church in Harvard Yard on Dec. 21 at 11 a.m.
Contributions may be made to the Francis D. and Laura B. Moore Fund for Surgical Research, c/o Brigham and Women's Hospital, Development Office, 116 Huntington Ave., 5th Floor, Boston, MA 02116.