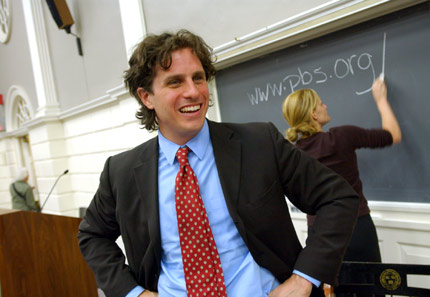 Kindergarten teacher Maurice Rabb spends his evenings coordinating speech therapy for a student. Joy Kraft, a high school social studies teacher, wheels her teaching materials from classroom to classroom in a suitcase. Nate Monley takes a student fishing to gain his trust. Georgene Acosta rallies her English as a Second Language students to testify before the school board. Geneviève DeBose reaches out to a troubled student, only to lose him.
Five public school teachers in Los Angeles share the trials and triumphs of their inaugural year as teachers in "The First Year," a documentary by filmmaker Davis Guggenheim. Guggenheim and his wife, actress Elisabeth Shue '00, screened the film and fielded questions at the Harvard Graduate School of Education's (GSE) Askwith Education Forum Tuesday (Dec. 4). Susan Moore Johnson, Pforzheimer Professor of Teaching and Learning at the GSE, provided context on the challenges of recruiting and retaining new teachers.
The film, which aired on PBS in September 2001, follows five young teachers from the first day of the school year to the last. Their compelling stories – and those of their students – unfurl in unflinching detail, as the camera follows them from kitchen to classroom to conference.
The film brings vivid life to some of the daunting statistics facing teaching as a profession: Nationally, 20 percent of all new hires leave teaching within three years, and in urban areas nearly 50 percent of new teachers leave within the first five years. "This is a problem of huge proportions," said Dottie Engler, GSE co-director of development and external relations, who introduced the forum.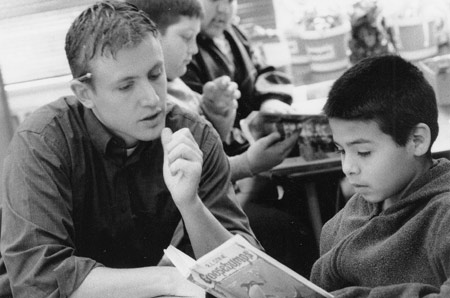 Determination in face of challenges
In "The First Year," the teachers face seemingly insurmountable challenges. Rabb, the kindergarten teacher, tries desperately to get Tyquan, a student with severe speech difficulties, into speech therapy. He visits Tyquan's family, he pleads with administrators, he even calls private speech therapists when the school therapist cancels appointment after appointment. In the end, he finds success working with Tyquan himself after school.
Not having her own classroom is pushing Joy Kraft to the edge, but her school district doesn't consider it a problem until one-third of their teachers are "homeless." Kraft and an administrator are creative in their search for unused space, but the shop space they find is inappropriate.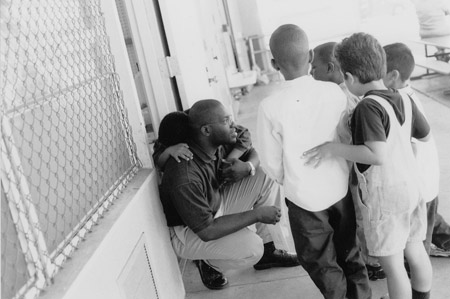 Nate Monley fears that he will lose Juan, a fifth-grader, to the gangs that claim his older brothers. Motherless and living in a tough Los Angeles neighborhood with his unemployed father and many siblings, Juan is still, says Monley, "a beautiful boy." Monley, a fourth-generation teacher, gains Juan's trust by taking him on field trips, going fishing with him, and sharing his passion for classic rock 'n' roll.
Geneviève DeBose, just 22, is so fresh that she asks her future landlady if her new apartment comes with electricity. She struggles with Marvin, a disruptive sixth-grader in her class, consulting with his family and making extra effort – even attending church with him – to reach him. When she finally engages him, on a photo project for which she raises the money herself, his grandmother pulls him from her school with no explanation.
Filmmaker and activist
Guggenheim, a documentary producer and television and feature film director, was inspired to make "The First Year" by a friend's experience as a new teacher. In addition, he told the audience, he and Shue began thinking about the future education of their own son, now 4. "What do I as a citizen do about it?" he said of the state of the public schools near his Los Angeles home.
Guggenheim teamed up with award-winning documentary producer Julia Schachter to make "The First Year" in 1999. They winnowed their teacher subjects from 50 to the final five, their selections based primarily on how accessible the teachers were to the filmmakers. "We tried not to have any political or academic agenda," said Guggenheim, adding that they also tried not to pick the best and brightest. Using a tiny digital camera, he became invisible to the students and captured some of the most intimate moments of the students' and young teachers' lives for the film.
Working on "The First Year" has turned Guggenheim and Shue into accidental activists. It inspired Shue to return to Harvard to finish her degree and contemplate a second career in teaching. "It's my hope that everyone who sees the film considers becoming a teacher," she said.
For advice on how "The First Year" could help recruit new teachers, Guggenheim turned to his funding partner, Getty Trust president and former California State University chancellor Barry Munitz. Guggenheim created a half-hour version of the film, which he describes as "a little more upbeat," that has been distributed free to career centers. The program's Web site (http://www.pbs.org/thefirstyear) links to extensive resources for would-be teachers.
While "The First Year" may have been preaching to the proverbial choir at the Askwith Forum, its power was not diminished. "It's not just an urban story," said Johnson, whose current research focuses on recruiting and retaining the next generation of teachers. "What you heard is a lot of recognition in this room."