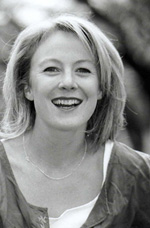 Karin Alexander of Lowell House is a winner of an International Rhodes Scholarship. Alexander plans to further her work in social studies, in which she concentrated, during her time at Oxford University. Alexander, who grew up in Zimbabwe, will be pursuing a degree in Development Studies at Oxford. She wants to prepare herself to work in civic education in Zimbabwe, helping the country's rural population become more educated in civics and politics so they can more fully participate in their government.
"In my junior year of social studies I took a class in modernization and development that altered the assumptions on which I based my world view. I have always had a strong desire to return to Africa but was finally able to identify the role I could play," Alexander said. "The goal is to be able to return home and work towards making development relevant and a catalyst for democratization."
Alexander has worked on social issues in her homeland already, doing her senior thesis on the white Zimbabwean identity, which involved conducting survey research that asked white Zimbabweans their feelings about themselves and their country.
"I'm not sure I've quite had the chance to process all the elation," Alexander said. "After four years at America's foremost institution of learning, I've just been given the gift of two years at one of England's most prestigious universities. It's a unique opportunity."