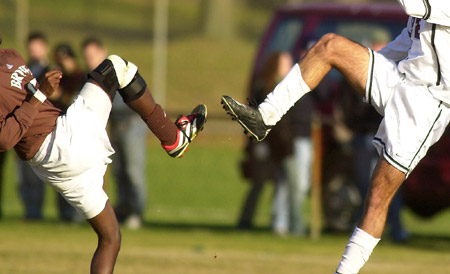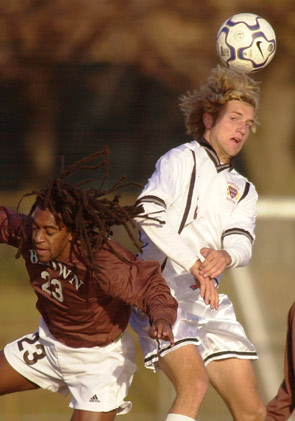 Harvard's game plan of clinching the Ivy League soccer title for the first time in 5 years went afoul as a result of a 3-0 shutout by Brown (7-7-2, 5-1-1 Ivy) on Saturday, Nov. 17, at Ohiri Field. Harvard's lone goal of the game was negated following a hand ball penalty. With the win, the Bears secured a share of the Ivy Championship along with Princeton, while ending Harvard's campaign at 10-4-1 overall, and 5-2 in the Ivies – a considerable leap, nevertheless, from last season's last place Ivy showing.
Six days later, upon receiving an at-large bid to the first round of the NCAA Tournament, the Scarlet Knights of Rutgers handed the Crimson its second consecutive defeat when Big East Player of the Year Dennis Ludwig scored the game's sole goal at UConn's Morrone Stadium.
On the upside, coach John Kerr's team will lose just four players next season to graduation, while Ladd Fritz '04 and Mike Lobach '03 – freshly minted first team All-Ivy players – will continue to man the field.
Faring a little better in the post-season, the women's team (10-6, 4-3 Ivy), advanced to the second round of the NCAA Tournament after defeating Hartford 1-0 in four overtimes on Friday, Nov. 16. A day later, the Crimson dropped a 1-0 decision against UConn. This is the sixth consecutive year that Tim Wheaton's team has earned a bid to the NCAA Tournament.