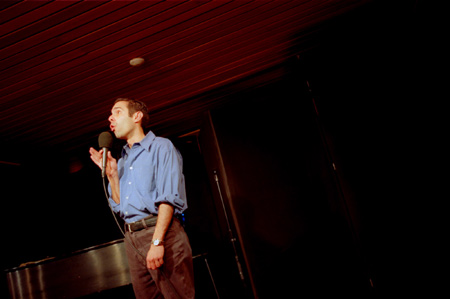 As any performer will tell you, getting out there in front of an audience never gets easier. There are always the butterflies in the stomach, the fear your voice will crack or that you'll trip over your shoelaces and land on your keester.
Sometimes the fear makes you want to give it all up, but if performing is something you truly love, then of course you never do.
As Michael Ricca puts it: "Sometimes all that anxiety makes me want to head for the hills. But then I think, what am I going to do in the hills?"
An actor and singer, Ricca brought his solo cabaret act, "A Boy Like That," to the Cambridge Center for Adult Education on Saturday, Nov. 17. He'll do the show again Sunday, Dec. 2, at 3 p.m.
In the show, Ricca strings together songs by Stephen Sondheim, Harold Arlen, Burt Bachrach, and Joni Mitchell to tell a story about "reluctantly growing up, letting go of certain things, and moving on to the next stage of your life."
Ricca has done his own share of moving on and letting go. A native of Quincy, he graduated from Emerson College, then moved to New York, where he studied acting and singing, performed off-Broadway and in summer stock. "I went that whole route," he said.
He loved being part of a repertory company, the close friendships, the sense of collaboration, but there was something about a life in the theater that wasn't quite working for him.
"I don't know how comfortable I was being an ambitious actor in New York. I don't know if that's where my temperament is."
So he returned to the Boston area and got a "normal" job. Ricca now works in Harvard's Office of Human Resources where he coordinates the orientation program for new staff members. But he never gave up performing.
In addition to his solo show, he has worked with two other singers, Will McMillan and Nina van Such, and pianist Brian Patton (Ricca's accompanist for "A Boy Like That") on a show called "At the Movies." The show debuted at the Cambridge Center for Adult Education, then moved to Scullers and other venues. Ricca has acted locally as well.
"I'm happy with my job at the University, but I'm also happy I'm involved in a creative pursuit. It's a nice balance."