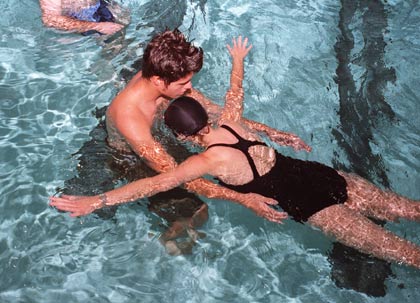 Staff photos by Rose Lincoln
John Douglas, a Southern Californian who grew up swimming, surfing, and playing water polo, gets a special sense of satisfaction from teaching adult beginners to swim.
"I know it's taken a bit of commitment for them to sign up for a class," he said. "It may be something they've meant to do all their lives, and now they've finally set this goal to strive for."
Douglas, who manages the Malkin Athletic Center pool and teaches swimming at all levels, enjoys seeing his students gingerly release their deathgrip on the pool rim and discover that the water actually will keep them afloat, or dive into deep water for the first time.

"Once you have a few breakthroughs in terms of confidence, it opens up the gateways to other skills. They have to learn to trust themselves and trust the instructor."
The Malkin's recreational swimming classes are Red Cross certified and are geared to all levels, from those who have never ventured into water above their waists to triathletes seeking to refine their strokes. There's even a class in aquaerobics as well as training for lifeguards and water safety instructors.
Douglas believes that the water has something for everyone. He has seen people with injuries and people who are physically handicapped get a workout in the pool when other forms of exercise proved impossible for them.
"There's something about the water. It has a lot to offer people that sports on land don't have," he said.