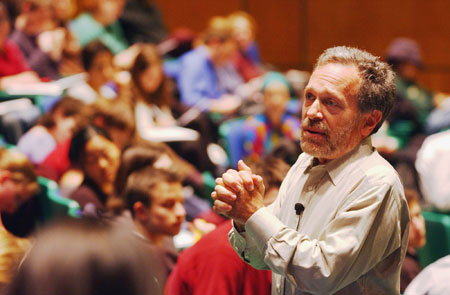 Barely two months after Sept. 11, students in Religion 1529 are grilling Diana Eck, professor of comparative religion and Indian studies and director of the Pluralism Project, on religious tolerance, respect, and understanding. A teaching fellow roams Science Center B with a microphone like a talk show hostess, amplifying questions that are as academic as they are heartfelt. What do you do when your religious beliefs insult another's religion? How can we reconcile that religion, with its enormous capacity for peacemaking, can also promote violence? For 20 minutes after the class ends, students linger, vying for one-on-one time with Eck, who has spent much of the past weeks fielding similar questions from major news outlets.
Just two weeks earlier, Tom Chappell, CEO of the natural foods company Tom's of Maine, shared his experiences as a "socially responsible businessman" with the class – and passed out toothpaste samples. Former Secretary of Labor Robert Reich rated a standing ovation for his ideas about public service and private life. The Rev. Debbie Little, founder of the Common Cathedral on Boston Common, brought some of her parishioners – homeless men and women – to help field student questions.
It's not every Harvard course that tackles real-world moral issues and dispenses toothpaste. Perhaps that's why, as they struggle with the complexities of a post-Sept. 11 world, students are flocking in record numbers to Religion 1529, "Personal Choice and Global Transformation." The course, taught by Brian Palmer, lecturer on the modern West and head tutor in the study of religion, is the second-largest non-Core class in the Faculty of Arts and Sciences. Its numbers swelled so much at the beginning of the semester that the class moved four times to increasingly larger halls to accommodate its 336 undergraduate and graduate students.
While the course – described as "for students seeking to have an impact as ethically serious global citizens" – might seem like a tailor-made academic response to the terrorist attacks, its roots extend farther back. It grew out of another very popular course of Palmer's, "Globalization, Civil Religion and Human Values: Envisioning World Community". In their otherwise glowing evaluations, students told Palmer that they wanted a course that was less theoretical and more connected to them as students and concerned citizens. They sought, he said, a course that would explore "how to link the individual level to the level of these great processes and events that we had been examining."
A Course Innovation fund grant from the dean of undergraduate education helped Palmer and head teaching fellow Kate Holbrook design this new course to address those student comments. Over the summer, they drew up a wish list of prominent guest lecturers – from Harvard faculty members like Eck and Elaine Scarry to Reich, Chappell and mother-turned-activist Carol Gray – who could bring their relevant experience and expertise to the subject.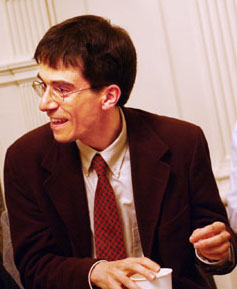 Palmer, who loves to lecture, was forced to take a back seat when nearly everyone they invited agreed to talk to the class. But instead of preparing a lecture, guests are interviewed by students, who meet in advance to draft questions. Palmer credits Victor S. Thomas Professor of Divinity Harvey Cox, whom he calls a mentor, with this technique. "It is a way of having a richer discussion than is afforded by lectures," says Palmer.
Indeed, rich, impassioned, academic discussions spill out of the lecture hall and into weekly dinners, to field trips like a recent one to Rev. Little's church-without-walls, to impromptu gatherings after film screenings. Palmer says that after watching 'Gandhi,' one of the course's four required films, he and several students repaired to Au Bon Pain to talk about it for a couple of hours. "They told me it was this kind of discussion that they came to university for, that education was this," he says. Students describe their course-related conversations as the sort of moral and intellectual inquiries that usually occur only in the rarefied air of dorm rooms at 3 a.m.
"What is quite unusual about this course is the range of attempts to build community," said Palmer who, along with Holbrook and the course's teaching fellows, devotes considerable time to out-of-class activities. "We realized at the beginning that with 336 students, we would need other venues for communication." Optional film screenings, field trips, coffee-and-cocoa klatches, and extensive office hours have created a palpable sense of community. Students say, in awe, that Palmer seems to know all their names; they joke about the class e-mails he sends in the wee hours of the night. "Obviously, he never sleeps," says one.
In addition, Palmer arranges optional weekly dinners for students to exchange ideas in a less formal environment than lectures or sections provide. At a recent dinner, students, some still soggy from sports practices, crowded into the Leverett House private dining room to debrief on issues the course has brought up. Comments wander from the intellectual vigor of a moral education and critical thinking about popular ideas to dying for what you believe in and making difficult choices after graduation. When Palmer leaves – other students from the course are taking him to his second dinner that evening – conversation turns to admiration for his compassion, creativity, and warmth. Students credit his personal commitment and involvement for creating a caring community of 300-plus strangers.
Such community is something students seem to be craving after Sept. 11. "There's a comfort in knowing that there are a lot of students here, and a lot of really smart people, who are struggling with this," said Anne Beckett '04. Yet Palmer feels that as much as community, the curriculum is central to the course's new relevancy. "Students tell me that this course, more than some of their other courses, helps them envision what they could become … how they're able to be people who would bring about a more humane, more peaceful world."
"It's an amazing opportunity to meet people who have excelled in their fields and who are dedicated to improving the world," said student Tali Rapaport '05, who listed Alfie Kohn, a critic of standardized testing, and British activist Carol Gray as the guests who most impressed her. Nina Jacobi '04 was similarly moved by Gray, a Mormon and mother of seven. "She was very powerful in communicating the message that 'if I can do it, everyone can do it,'" said Jacobi.
But Religion 1529 is far more than a how-to for political activism. In the selection of guests, corresponding readings, and films, Palmer aims to instill in his students "an awareness of the moral complexity of our increasingly interconnected world society," he said. "And at the same time a sense that that complexity does not relieve us of the responsibility to act as best we can.
"I hope that the extraordinary courage and exuberance of many of our guests is in some way contagious, that all of us who witness that courage in others … may be able then to summon some of the same in ourselves," Palmer said.