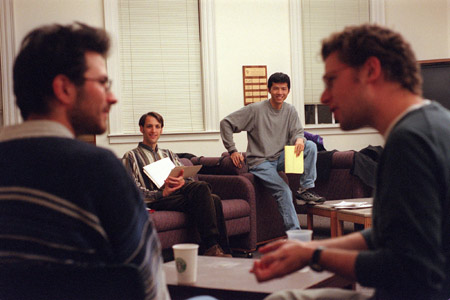 Bryan Sun is a graduate student with more than one iron in the fire.
Like filmmaker Valerie Weiss, he is currently engaged in the Ph.D. phase of the Medical School's M.D.-Ph.D. program, but he has no intention of letting his professional studies crowd out his need for creative activity.
Sun became involved in the Dudley House Film and Drama program last year and became a member of the writing team that produced the script for Weiss' film, "Dance by Design." This year, as a Dudley drama fellow, he is pursuing a project of his own, a live production of "Picasso at the Lapin Agile," by Steve Martin.
One might suppose that graduate school is the time to lay aside auxiliary interests such as drama, but for Sun and many others, the opposite is true.
"I've gotten more involved in theater in graduate school than ever before," he said. "I think that because graduate school is more focused, people are looking for outlets in other areas."
"Picasso at the Lapin Agile" (which had its premiere at the Hasty Pudding Theatre in 1994) is a historical fantasy bringing together Picasso, Einstein, and other 20th century icons at a famous Parisian bar. Sun had dreamed about producing the play at the Café Gato Rojo in Dudley House as a kind of intimate dinner theater. The idea remained a dream until he met Jeffrey Townsend, a graduate student in Organismic and Evolutionary Biology, who had the same idea. Sun and Townsend are collaborating on the production.
The play will be performed Nov. 15-18, with four evening performances and one Saturday matinee. Tickets are available through the Harvard Box Office (617) 496-2222.
"I think it will be a lot of fun," Sun said.
– Ken Gewertz