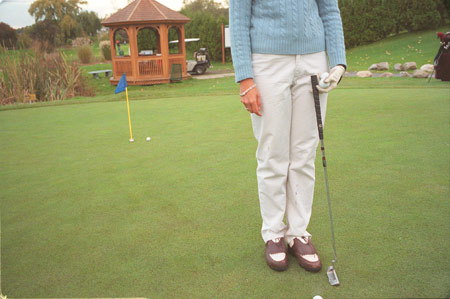 Harvard's women's golf team finished its official fall season in solid standing, but the season's high point came Oct. 28, when the team beat Yale in a scrimmage. "It was a real accomplishment for our team," said assistant coach Fred Schernecker '90, noting that Yale's women's team is usually the best in the East. "It was fun – especially beating Yale."
Women's golf at Harvard is on the upswing, thanks in part to Tiger Woods and Title IX, the 1972 federal law prohibiting sex discrimination in activities at schools and colleges that receive federal funds. Since 1998, the team has decreased its strokes per tournament round from 368 to 345, and Schernecker is confident that trend will continue this spring. That's due in part to golf's growing appeal to young women, boosted by Woods' youthful charisma and by the ever-lengthening shadow of Title IX, which has some universities now offering scholarships to women golfers.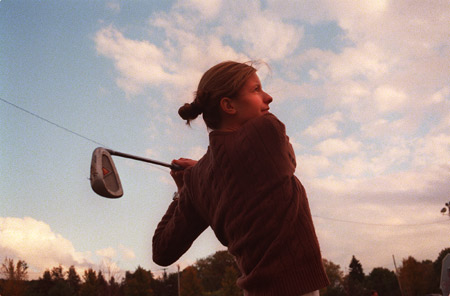 In addition, Schernecker and head coach Warren Smith have boosted the competitive commitment of the program. The seven student-athletes on the team have so many other demands on their time, said Schernecker, that "if they're going to choose to play golf, it should be something they can get a lot out of." In contrast to the inaugural season in 1993, when some team members "played their first 18 holes of golf at a tournament," Schernecker said that today most players have logged up to eight years of competitive golf before coming to Harvard.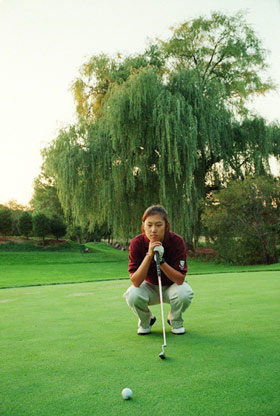 During the fall and spring seasons, the team practices three or four days each week, then travels to play two-day tournaments on the weekends. Members are encouraged to maintain a high level of fitness in the off-season because, contrary to stereotype, the game is physically demanding. In a four-hour tournament, players walk four to five miles carrying 30-pound golf bags.
For the Harvard women, the demands of the game are mitigated by their surroundings. Their practice course is one of the game's most prestigious: the Brookline Country Club. "We're very, very fortunate to have that as our home course," said Schernecker. "We have the best home course of any college team in the country."
Contact Beth Potier at beth_potier@harvard.edu