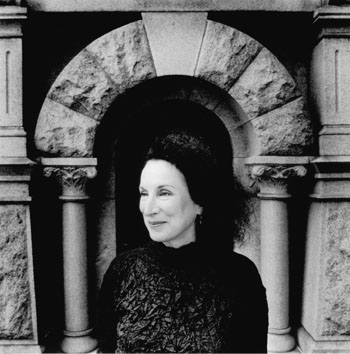 Margaret Atwood, the recipient of the 2000 Booker Prize for her novel "The Blind Assassin," will speak at the Radcliffe Institute for Advanced Study on Monday, Nov. 19, as part of the Dean's Lecture Series. Atwood will deliver her talk, "How I Became a Writer," at 4 p.m. at the First Church Congregational, 11 Garden St., in Cambridge. The event is free and open to the public. Atwood will sign copies of "The Blind Assassin" at a reception immediately following the lecture. Copies of the book will be available for purchase.
"One thing I take very seriously when writing fiction is the accuracy of the physical details," said Atwood in May 1995 at the Toronto Council of Teachers of English (TCTE) meeting. "The characters are either inventions or pastiches, which is the way it is with most people who write fiction. I do not wish the people in my novels to be identified but some of them are anyway, although they are rarely the people that other people think they are."
Considered to be one of Canada's major contemporary authors, Atwood has been writing poetry, feminist criticism, and novels for 40 years.
She has also taught English at several Canadian universities and served as writer-in-residence at universities in Australia, Canada, and the United States.
The novels have earned Atwood most of her critical acclaim. She has written 10 to date, including "Surfacing" (1972), "Cat's Eye" (1988), "The Robber Bride" (1993), and "The Handmaid's Tale" (1996). "The Blind Assassin" (2000), a novel-within-a-novel, is considered her most complicated work. The book tells the story of two sisters, one of whom has written a cult novel of the same title. The New York Times called the book "absorbing" and "expertly rendered" and John Updike described it in The New Yorker as "brilliant" and "opulent."
"As for the plots, they are by and large fictional, but they are the kind of thing that does happen, can happen or might happen. It's the business of the fiction writer to be plausible," said Atwood at the TCTE meeting. "That's another way of saying it's the business of the fiction writer to tell you lies you will believe!"
A native of Ottawa, Canada, Atwood earned her undergraduate degree from Victoria College at the University of Toronto in 1961 and her master's degree from Radcliffe College in 1962. She holds honorary degrees from 16 educational institutions, including Cambridge University, Oxford University, Mount Holyoke College, and Smith College. The recipient of a Graduate Society Medal from Radcliffe in 1980, Atwood received a Guggenheim Fellowship in 1981 and a Centennial Medal from Harvard in 1990. She was awarded the Order of Ontario in 1990 and the Government of France's Chevalier dans l'Ordre des Arts et des Lettres in 1994.