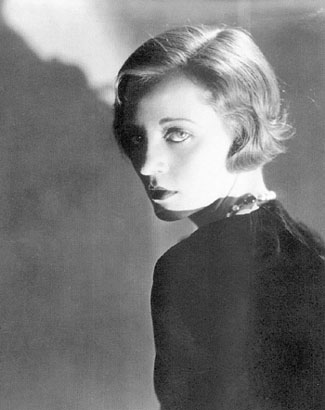 More than 70 original prints from the Harvard Theatre Collection's Hoyningen-Huene archive are on loan to the Museum of Fine Arts (MFA) exhibition "The Look: Images of Glamour and Style, Photographs by Horst and Hoyningen-Huene." As chief photographers at Vogue, Horst and Hoyningen-Huene's elegant style heavily influenced fashion photography of the mid-20th century. This exhibition features dramatic black-and-white photographs dating from the 1930s to 1950s of actors, artists, models, and socialites.
The curator of photographs at the MFA approached Fredric Woodbridge Wilson, curator of the Harvard Theatre Collection, with the idea of collaborating on an exhibition that joined the works of Horst and Hoyningen-Huene, who shared artistic influences and were lifelong friends. Wilson and the Theatre Collection staff aided MFA curators in locating and selecting the prints. As it turned out, the Theatre Collection had exactly what the MFA hoped to find – original prints by Hoyningen-Huene, many of which were taken in the Vogue studios of the '30s and '40s.
Wilson explained that the Theatre Collection's fashion photography holdings are often overlooked because library users do not expect to find them among theatrical items. The scope of the Theatre Collection embraces many kinds of performance and popular entertainment, including fashion and modeling. The photographs are important to the collection because they feature actors, actresses, models, and socialites who were close to the theater. A gift from Frederick R. Koch '55, who helped to build the Theatre Collection's photographic holdings, made the purchase of the Hoyningen-Huene photographs possible.
William P. Stoneman, Florence Fearrington Librarian of Houghton Library, which administers the Harvard Theatre Collection, noted, "We often loan materials to other libraries and museums. Just recently we loaned items to the Tate Gallery in London and the Metropolitan Museum in New York. It is not often, however, that we loan so many items to one show." Stoneman added that the library is always concerned with the safety and preservation of materials and mindful of risks involved in lending them, yet believes that collaboration with these institutions is beneficial because it enables wider audiences to view the library's unique holdings.
The MFA has added Art Deco ambience to the exhibition galleries with haute couture gowns, period furniture, decorative art objects, and music of the era, making the shift in time and glamour complete. "The Look: Images of Glamour and Style" runs through Jan. 6. Tickets are available on the MFA Web site, http://www.mfa.org, by calling NEXT ticketing, (617) 542-4632, or at the museum box office.