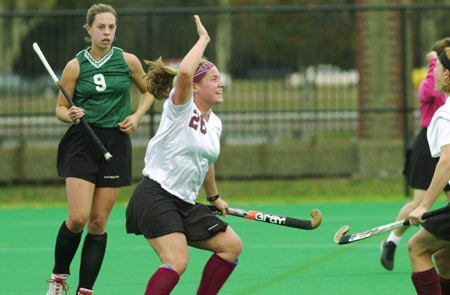 The Harvard field hockey team (8-6, 3-2 Ivy) dropped its second consecutive match against an Ivy opponent this past Friday (Oct. 26), falling 4-2 at home against Dartmouth, but bounced back in a 1-0 win over cross-town rival Boston University – the team's first against the Terriers in 10 years – on Sunday (Oct. 28). In the Ivy standings, the Crimson now shares the third place slot with the Big Green, after first place Princeton and second place Penn.
Dartmouth wasted precious little time against Harvard on Friday, scoring two early goals just four minutes apart. Yet Harvard forward Mina Pell '04 responded with 18 minutes remaining in the first half, tipping a penalty corner shot by first-year back Shelley Maasdorp to cut the lead to 2-1. The rally was to be short-lived, however, as Dartmouth pulled ahead 3-1 going into the half with a goal on a penalty corner by Rebekka Stucker.
The Big Green onslaught continued in the second stanza, when Caitlin Barrett increased the Dartmouth advantage to 4-1, backhanding a shot past Harvard goalie Katie Zacarian '04. Zacarian finished the day with nine saves. Harvard's final goal came courtesy of Crimson high-scorer Pell, who tallied her eighth of the season on a tip-in off another Maasdorp shot.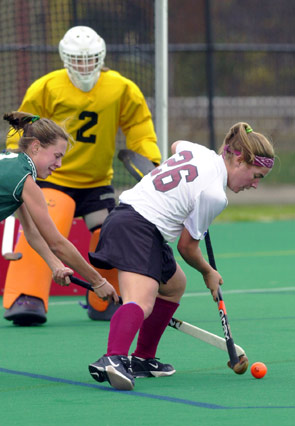 In the second chapter of Harvard's homestand weekend this Sunday against BU (8-10), a solid defensive effort made the difference for the Crimson squad. Earning the shut out, Harvard's fourth this year, goalie Zacarian made seven saves, including a last minute heroic dive to secure the 1-0 victory.
Forward Philomena Gambale '03 scored the game's lone goal, knocking in a deflected shot past Terrier netminder Susan Harrington on a penalty corner six minutes into the game.
The win against BU completes a Harvard sweep of regional rivals, having beat Northeastern 2-1 in overtime, and Boston College 5-0, earlier this season.
On Halloween, the team scared Providence College (11-7), 5-0, with five players each chipping in a goal.
The team returns to Ivy League action on Saturday, Nov. 3, at Columbia (5-10, 1-5 Ivy).