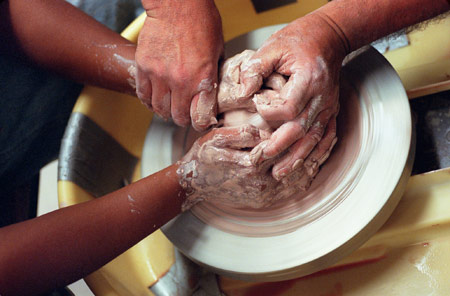 What could be more fun than playing in the mud? Imagine this: Slippery mounds of oozing clay seeping through your fingers, dramatically changing shape under shifting pressures. Your eyes trained on a rising gray slab-becoming-cylinder, growing taller (and more delicate) as you guide, pull, stroke carefully up … wheel spinning, knees steady, back tense, a little more even pressure from both hands … gently lifting, lifting, steady, and then, then … Thwack! The 15-inch vase of your dreams flies across the room, hits a wall and slides down to the studio floor in a heap of gray slop. You get to clean up and start all over. New clay, new throwing determination, new dreamy vase/pot/bowl idea to obsess upon, and a host of witnesses who can't wait to watch you do it all over again. There's nothing better.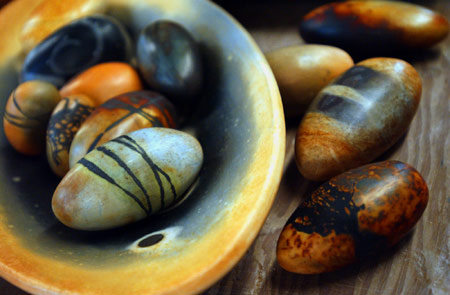 For most ceramics enthusiasts, actually finishing a piece of pottery, on the wheel or via one of the many hand-building techniques, is of course the ultimate goal. Afterward comes the extended combination exercises of creativity and patience; also known as temperature-controlled drying, glazing, firing, and cooling. This is for sure no instant art, but for many certainly well worth the while – and the wait.
The Ceramics Program at 219 Western Ave. invites those with clay-throwing, building, firing, or thwacking fantasies to live them out in glazing colors. For complete registration or drop-in information, visit http://www.fas.harvard.edu/~ofa or call (617) 495-8680.
– Rebecca Rollins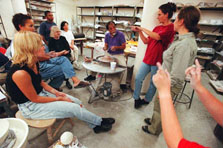 Instructor Yabe (center, seated) demonstrates to students how to position their hands while 'throwing' on the wheel. Scanlon demonstrates a point to graduate student in history Brian Delay.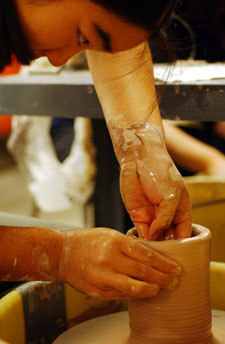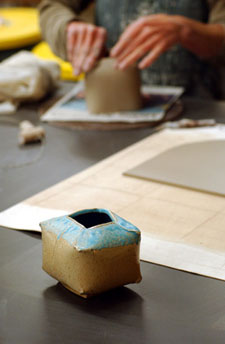 Jennifer Hsieh '04 is all eyes and hands as she applies just the right amount of pressure to shape the form rising out of her potter's wheel. Instructor Lucy Scanlon's hands caress a vase into shape, with a finished product (foreground) serving as inspiration.