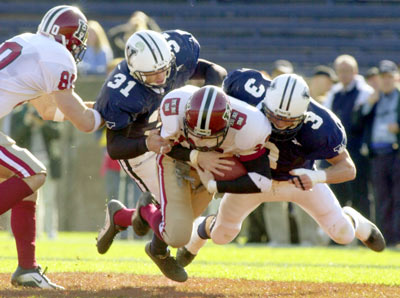 With the hoisting of the Ivy cup, the Harvard football team's dream season suddenly became very real on Saturday, Nov. 17. In beating rival Yale, 35-23, in the 118th playing of the Game, the Crimson won its 10th Ivy League Championship and fourth outright crown, while extending its perfect season to 9-0. Not since 1913 has Harvard waged an unbeaten, untied campaign.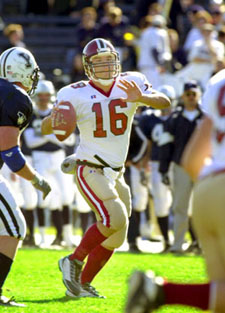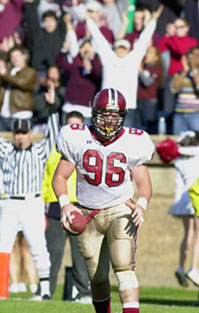 Harvard's Neil Rose '02 looks for a receiver during first half action in New Haven on Nov. 17. Rose and Harvard went on to win the Game, 35-23, and the Ivy League Championship. With a background fan and referee showing there's no doubt about it, Matt Fratto '04 (left) scores one of his two second-quarter touchdowns, both from passes by quarterback Neil Rose '02.
Senior quarterback Neil Rose, recently named First Team All-Ivy, propelled the Crimson to victory with a 270-yard output and four touchdown passes. Rose's right-hand man Carl Morris '03 had five catches on the day, capping the season with a single-season school record of 71 receptions, translating into 943 yards and 12 touchdowns.
In a season of rare distinctions, Morris was also recently named the league's most outstanding player by way of the Asa S. Bushnell Trophy. He becomes the first Harvard player in more than 25 years to receive the prestigious award.
Also selected First Team All-Ivy were sophomore linebacker Dante Balestracci, senior defensive backs Willie Alford and Andy Fried, and senior linemen Jason Hove, Marc Laborsky, and Justin Stark.