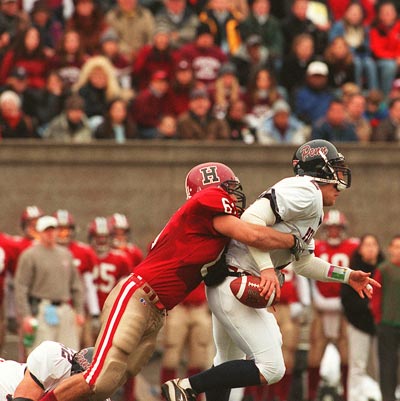 If imitation is the sincerest form of flattery, then the University of Penn – one of the best defensive teams in the nation – must have been absolutely smitten with Harvard's performance last Saturday at the stadium. In one stretch of the final quarter, Penn (7-1, Ivy 5-1) was subject to two consecutive sacks by seniors Eric LaHaie and Andy Fried, and a blocked punt by Rodney Thomas '02. The Crimson stops spoiled any hopes of a Quaker comeback – while assuring the eventual 28-21 Harvard victory. Throw in senior Willie Alford's '02 interception – the lone pick-off of the day – and its clear to see that Penn's D was in some pretty good company.
Harvard (8-0, Ivy 6-0) was hardly a shoo-in in this Ivy League showdown, however: Coach Tim Murphy's team witnessed a frighteningly efficient Penn team march 141 yards to a 14-0 first quarter lead. Yet early in the second quarter, an apparently fed-up Neil Rose '02 conducted a 13-play 77-yard drive, capped by a one-yard touchdown run from tailback Nick Palazzo '03. Palazzo led the Crimson ground campaign with 88 yards. The half closed with the Quakers up 14-7.
In the third quarter, the Rose and Carl Morris '02 show took center stage. The duo combined for 82 yards and two touchdowns, sparking a 21-14 Harvard turn-round. Morris busted several school records in the process, including single-season and career receptions (66 and 150, respectively), and season TD receptions with 10.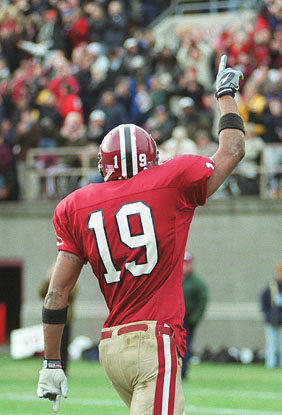 A prophetic Carl Morris '03 celebrates – flashing a number one sign after one of his two touchdowns, to the delight of 14,818 at Harvard Stadium.
Thomas' fourth quarter blocked punt – a blessed event not seen in two seasons – set up Harvard's last scoring drive, a 30-yard pass from Rose to a seriously open Josh Staph '02, who back-peddled his way into the end zone. The Staph score, his first aerial TD of the year, put the Crimson up 28-14 with over 8 minutes remaining.
The Quakers cut the lead to 28-21 on a quick two-play scoring drive. Yet in recovering Penn's on-side kick, and through some good game-clock management, the Crimson clamp-down continued, ensuring the Harvard touchdown advantage.
Harvard's win against the Quakers, the team's first since 1997, guarantees the Crimson at least a share of the Ivy title. And with Yale on deck, "the Game," next Saturday, Nov. 17, in New Haven, takes on a double meaning as Harvard looks to secure not only the outright Ivy League title, but its first undefeated, untied season in 88 years.