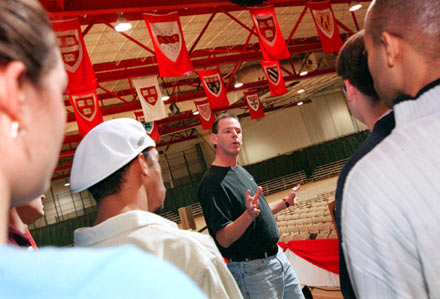 The sound check went on, sounding like a monastic chant as it echoed off Gordon Track and Tennis Center's high metal ceiling. Ignoring the droned "1, 2, 3, 4's," 24 Harvard undergraduates rested on newly-erected risers Sunday (Nov. 18) as they gobbled pizza and prepared for the next phase of the operation.
Planning for a presidential visit is tough work.
The students took part in a crash course in presidential advance planning in the weeks leading up to former President William Jefferson Clinton's visit to Harvard Monday (Nov. 19). The non-credit course, led by former Clinton advance man Ted Carr, now a mid-career student at the Kennedy School of Government, aims to steep the students in what has to be done when.
School of hard knocks
"The one thing that would have helped me would have been a training program," Carr said. His own start came when he was at Cornell College in Iowa and asked to arrange a meeting with farmers for Massachusetts Gov. and presidential candidate Michael Dukakis. "You make mistakes, you feel you're in a bit over your head."
Carr eventually worked in the Clinton White House, doing advance planning for a year. He then moved to the Commerce Department, where he continued to do advance work on international business development trips.
The impromptu course had to come together quickly. After the Clinton visit was finalized, Carr was asked in early November to run the program as a way to give undergraduates a taste of what goes into planning a visit of this magnitude. About 250 students expressed interest, a lottery was held to choose the 24 who would do the bulk of the work, as well as identify another 40 who would serve as ushers for the event.
"I like working with people who have no idea what they're getting into," Carr said. "They're working on every aspect of this."
A day before the event, the undergraduate advance team was hard at work in the Gordon Track and Tennis Center. Students were cycled through five teams headed by experienced presidential advance people; each team handled a specific area of the event, which included site preparation, crowd handling, press, talent, and VIPs.
"Now they all have the knowledge of the entire event," Carr said. "Our ultimate hope is, once the kids know how everything works, … to just step aside."
Kelly Courtney, another former advance person brought in to help Carr in the whirlwind class, said Carr is trying to not only to teach them the details of advance work, but also to give them the big picture.
"They're bright, quick, [the students] are all great," Courtney said. "They're not only getting assignments, they're seeing the big picture and that's the difference between a good event and a spectacular event."
Part of something big
The students involved have varying levels of experience with political campaigns. Heather Woodruff, a junior economics concentrator, interned at the White House last summer doing advance work. She said there doesn't appear to be much of a difference between advance work for a sitting Republican president and a Democratic former president.
"It's very similar. It's just been great that so many students get involved," Woodruff said.
Despite her White House experience, Woodruff said she is getting a chance to work on aspects of the event she hadn't over the summer, such as crowd handling and site preparation.
Another similarity between her summer experience and the Clinton event is the excitement, Woodruff said.
"It's exciting. People like the idea of seeing something come together before your eyes," Woodruff said. "I think it's very satisfying. It's good to be part of something big."
Erin Ashwell, a senior concentrating in government, said doing the advance work provides her a different view of the same things her classes touch on. She said she is interested in this kind of political work and the experience will give her a chance to see if she wants to follow up when she graduates in June.
"Here I get to see what underlies all that [class information]," Ashwell said. "My class will touch on the content of the speech and this will show me how it all happens … . I'm amazed at how many working parts there are."
Like clockwork
The day came and the crowd filed in. In front of nearly 6,000 people, the Clinton speech went off without a hitch. Early on, Woodruff sensed that the days of preparation and organization were paying off.
"Things have run so smoothly," she said. "Everything has been organized well and it's gone off like clockwork."
Shoshana Lew, a freshman who was shuttling members of the media from the outdoor check in table to the press section, said the hectic preparations, the big-time event, the need to get everything right all combined for a memorable experience.
"It's been crazy, crazy in a good way," Lew said. "I've been loving every minute of it."