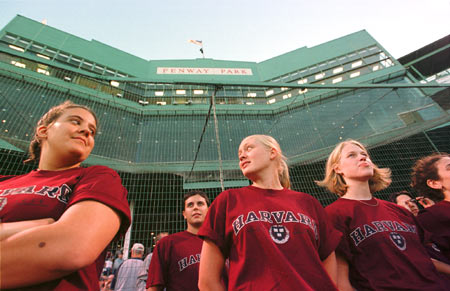 The Harvard University Choir has announced the appointment of the first class of 10 Choral Fellows for the 2001-02 academic year. The program, which took eight years to develop, is unique to the American university system and marks the latest development in the long tradition of choral music at Harvard.
"One might look at this program as the musical equivalent to an athletics program, where the best are rewarded for their excellence. There is simply nothing this rewarding for choral scholars," said University Organist and Choirmaster Murray Forbes Somerville, who developed the idea on sabbatical and is hoping that it will mark a new standard among universities across the country. "Once again, Harvard is at the cutting edge of programs to develop students, not just intellectually and physically, but also artistically. This is our way of supporting and nurturing the best and brightest vocal talent we have here among our students, as well as raising the flag that superb choral singing is taken seriously at Harvard."
This new standard is reflected in the selection and job description of a Choral Fellow. Each candidate is auditioned in vocal technique, sight-singing, and musicianship by a committee composed of Somerville, Thomas Gregg, director of vocal studies at the Memorial Church, and John Stewart, senior preceptor in Harvard's Department of Music.
Because the Choral Fellows form the core of the University Choir, they are expected to arrive prepared, thus setting a standard for the rest of the chorus. The fellows' many duties include forming the choir for Morning Prayers; filling solo parts during services; and providing the choral music at any additional special services throughout the year.
Choral Fellows are challenged with hard work and dedication, but not without reward. The program offers substantial stipends and free vocal tuition. The fellows practice their art daily at Morning Prayers, which allows them active experience, a key component of any performer's resume. Fellows have also had some fun duties such as singing the national anthem at the opening Red Sox game at Fenway Park this fall, and singing at "Segue!" – the student performance given at Lawrence H. Summers' presidential inauguration.
All of the hard work, rehearsals, and performances wouldn't have been possible if not for a major gift to the Memorial Church at Harvard and the active support of the Rev. Professor Peter J. Gomes, Pusey Minister in the Memorial Church and Plummer Professor of Christian Morals, and the Memorial Church's Director of Administration and Development Daniel A. Sanks.
"The work of the University Choir is crucial to the ministry of the church, and Professor Gomes and Mr. Sanks are fully behind this new program," Somerville said.
The tradition of choir excellence dates back to the appointment of John Knowles Paine, who instituted a professional standard among the choir members as the first University organist and choirmaster in 1862. Subsequent directors have included the legendary Archibald T. Davidson, G. Wallace Woodworth, and John Ferris. It was under Ferris that the choir became coeducational with the inclusion of women from Radcliffe. In recent history, under the direction of Somerville, the choir has toured Europe on three occasions, appeared at the Spoleto Festival in Charleston, S.C., and with the Boston Camerata at Lincoln Center and Tanglewood, and made several commercial recordings. The choir's newest recording – made last summer in London's Temple Church for the ASV label – features music of choral composers Amy Beach and Randall Thompson and is due for release in January 2002. European critics have described the choir's performances as "a demonstration of choral perfection," while its recordings have been described as "a remarkable achievement" and "outstanding and of professional caliber."