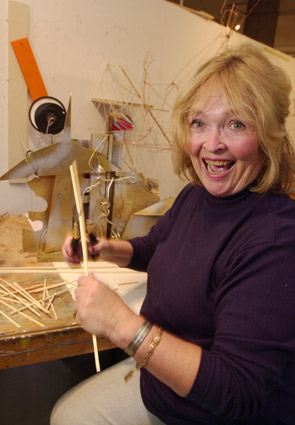 Claudia Carroll describes her life as a peasant cart, cobbled together from odds and ends, with rickety wheels about to fall off.
Though shaky, that cart has always been hung with colorful scarves, with drawings and collages. It's become a stage for acting and dancing, and has been a quiet place to write poetry. It's been Carroll's refuge in a life that's held marriages and divorces, and a string of unfulfilling jobs.
"I've always been very poor, I've always thought the next venture would get me over the hump, but it never did," Carroll said.
Today Carroll's cart is parked at the Arts in Education Program at the Graduate School of Education. More than ever, at age 64, Carroll feels she's traveling down the right road. Where that will lead is still unclear, but with the help of the Arts in Education program, Carroll hopes to work with schoolteachers, showing them how to teach the arts, especially to children at risk.
Though Carroll is the oldest student in the program so far, Arts in Education Director Jessica Hoffmann Davis said the six-year-old program has a habit of attracting a diverse student body.
"Whatever [Carroll] has done, she's always worked in the community, she's always worked with kids. She's an arts organizer," Davis said. "Really, students who belong in [the program] seem to find it."
Davis said the program currently has 46 students who range in age from 22 to 64. They have a wide variety of backgrounds. Two visually impaired students are studying arts education and disabilities, an administrator at the Business School is studying arts funding, and students from Korea and China are focusing on museum education.
Despite their diverse backgrounds, Davis said after a first-day exercise when the students talk about their lives in art, most feel suddenly like they fit right in.
"It usually ends with them feeling like they're home," Davis said. "Then I sit back and watch them do amazing things."
Older students re-entering college often face psychological challenges different from those faced by their younger classmates. Most have been out of the classroom for years, if not decades, and are concerned how they'll measure up.
"They usually have a lot of anxiety about how they can compete with their younger colleagues," said GSE Director of Student Affairs Nancy Nienhuis. "They experience a lot of stress, based on the fact they've been out of the classroom for some time."
Nienhuis said that older students like Carroll are rare, but not unknown at the Graduate School of Education. And often, after a period of adjustment, those students find they do better in classes than other students. Nienhuis said that is partly because their anxiety drives them to seek help from resources such as the School's Writing Center, and partly because they can relate what they're learning to their life's experiences.
"It's not unusual for them to be in the top of the class," Nienhuis said. "Older students tend to retain more, they can fit it into life much better than younger students can."
For her part, Carroll said she's been surprised how easily she fits in. Everyone has been welcoming and helpful, from Davis to her other instructors to people at the library.
"I've never had a sense of age and I find it matters less here than anywhere," Carroll said. "I think it's something they put in the water here. I go into the library and someone asks if I'm looking for something."
Life hasn't always been so welcoming for Carroll. As a child she had dreams for herself that she found weren't necessarily shared by those around her.
Carroll grew up on a small farm in Fillmore, Calif. Her mother died when she was 6. She was raised by her father and her stepmother, who subscribed her to the Book of the Month Club. That, and a box of books – dating to the 1800s – Carroll found in a cottage behind the main house, opened her eyes to the wide world.
"I was 10 years old and I fell in love with the world," Carroll said.
Carroll started her creative life early, writing a school play when she was in seventh grade. She waitressed at the family restaurant through high school and wanted to go to college when she graduated.
"But in 1954, my [counselors] said why do you want to go to college. You should get a secretarial job or get married. My family said the same thing, so I did," Carroll said.
That started decades of wandering down life's roads with her two children, working in a variety of jobs, freelancing and writing for small newspapers, but always doing her art, assembling collages, writing poetry, penning plays.
"It was as if I was living parallel lives and my personal life was absolute chaos," Carroll said.
Carroll thinks the turning point came six years ago, when she found out that her son, Michael, was a victim of mental illness and battling his schizophrenia alone.
She contacted Michael and moved them both to a small cottage on the Morongo Indian Reservation near Palm Springs. She got a job working as a waitress in a nearby diner, sputtering back and forth to work in a car that broke down every two weeks.
Over time, Carroll said, she and her son helped each other. She helped him stabilize and learn to deal with his illness. He taught her how to laugh and made her determined to change their futures.
"I helped him take baby steps [in managing his illness]. He helped me become strong," she said.
Somewhere along the way, Carroll began to wonder what separated her from the successful people that she served every day. It was paying your dues by getting an education, she decided.
Shortly after that, she enrolled in California Baptist University in Riverside, Calif. She said she found the small classes and close contact with the instructors nurturing. She spent two summers teaching art to at-risk children at a summer camp and saw what a powerful tool art could be in boosting children's esteem.
Art intimidates people, Carroll said, because they can't draw or don't know the lingo. Part of the reason it seems so imposing, she said, is because people start out trying to draw or paint, two of the hardest things to do. She starts them out with a box of junk and says, "Make something."
"People say, 'I can't even draw a straight line.' I say that's great because that's the last thing you need to do. You can use a ruler to draw a straight line," Carroll said. "People feel relieved, they feel better. They're more willing to take a class or go to a gallery."
She graduated with a bachelor's degree in visual arts and set her sights on the GSE's Arts in Education program.
Now that she's here, Carroll plans to absorb all she can from those around her.
"I'm here to learn as much [as I can] from individuals. The books I can read," Carroll said.
When she's done with the one-year master's, Carroll is considering applying to a doctoral program, and eventually working to educate teachers how to teach art effectively.
Wherever she ends up, Carroll appreciates those who helped her along the way and hopes her life can be a lesson that people should keep working toward their dreams. Part of that lesson, she said, is that life sometimes has its own priorities. Ten years ago, before her decision to help her son, she wasn't ready for Harvard, or for California Baptist, for that matter.
"I think there were life lessons to be learned. I couldn't be here doing it without the encounter with my son, without being a waitress, without going to [California Baptist] with the professors there," she said. "I see life being like a pebble in a pond, it radiates out and you don't know who it will touch.
"My [California Baptist] art professor … sent me an e-mail, 'You're going to be OK, but I'm going to pray for Harvard,'" Carroll said. "I hope I justify people's belief in me."
Contact Alvin Powell at alvin_powell@harvard.edu