Pu Zhang arrived in the United States from China in 1993, trained as a physician but unable to speak English fluently.
Her English was so bad, she said, that she chose to be a volunteer to start her research career at Beth Israel Deaconess Medical Center to improve her laboratory bench work, while attending English as a second language classes.
She began volunteering in the Tenen Lab, where she works today. She was appointed as an instructor in medicine at Harvard Medical School a couple of years ago while she continues to conduct laboratory research on leukemia.
The need to learn a new language and a new culture, reconstruct her medical career, and care for her family has made the last few years demanding ones for Zhang. She got some help recently from Harvard Medical School, however, when she was named among 40 young scientists to receive a $25,000 fellowship designed to make their lives a bit more manageable in order to pursue an academic career.
"It really made me feel more comfortable that a person can be a good scientist no matter what their background," Zhang said of the award.
Juggling responsibilities
The Scholars in Medicine Program originated in 1996 as a way to help mid-career women juggle the often-conflicting responsibilities that prompt many to drop their budding academic careers to focus on clinical work and family.
"Everyone is aware that we lose some of our best talent in the early junior faculty years when they try to do everything at once," said Eleanor Shore, HMS's dean for faculty affairs. "This is talent that might be preserved for academic medicine."
Shore described the program as a "great patchwork quilt" funded through various individual donors and awarded through the Scholars in Medicine Program. Zhang is the recipient of this year's Margaret H. Walter and Daughters Fellowship in memory of Carl W. Walter, M.D. '32. The Walter fellowship is just one of a number that has grown each year.
Shore said the original commitment was to find the money to fund 10 $25,000 fellowships annually, but the idea has resonated so much with hospitals, departments, foundations, and research institutions in the Harvard medical community that more fellowships have been awarded each year until the number reached 40 this year.
The money is intended to buy "protected time," Shore said, and used to do things such as hiring research assistants to expand the number of persons committed to the research project. The time freed up can be used to write grants or conduct other research or do what otherwise might not get done until late at night after the kids are in bed.
"They can buy time out – for whatever $25,000 buys," Shore said. "It really is buying time to think, and that's a rare commodity."
The fellowships were begun about the time when Harvard Medical School was celebrating the 50th anniversary of the first women being admitted to the student body.
Though the fellowships were started with the aim of increasing the number of women in HMS's professorial ranks, the fellowships are also awarded to men facing similar responsibility conflicts, Shore said. Even today the number of women in junior ranks falls steadily and steeply as they rise toward full professors. Nearly half – 41.8 percent – of instructors are women. Women make up 29 percent of the assistant professors, 17.9 percent of associate professors, and 11.3 percent of professors, Shore said.
Morale boost
The fellowships provide not only material boosts to their recipients, they also provide morale boosts, encouraging recipients in their academic work and raising their profiles among their colleagues. Each fellow has the commitment of a faculty sponsor and either a division or department head.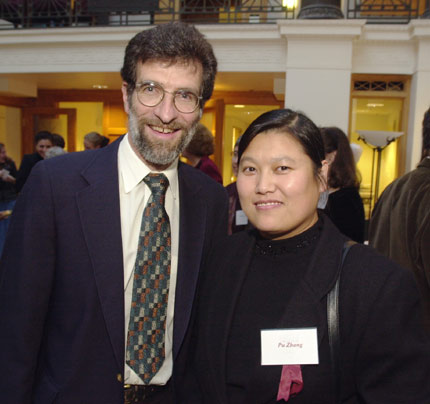 Zhang, who has two daughters, ages 5 and 13, said she plans to use the money to foster her research into leukemia. Zhang one day hopes to run her own project.
"The more you learn, the more you're interested in," Zhang said. "[The fellowship] really means a lot because it gives me confidence that I can do a good job."