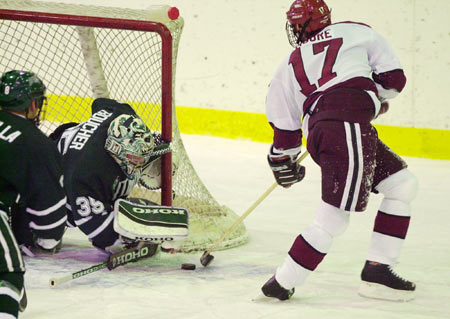 After a Bambi-like season opening flop this past Saturday (Nov. 3) against Brown – a 4-2 loss vs. a team projected to finish last in the ECAC – the Harvard men's hockey team (1-1-0, Ivy 1-1-0) sprang back with a sure-footed 5-2 win over Ivy rival Dartmouth on Sunday at home. Though the 15th – ranked Big Green managed an early 2-0 lead, Harvard stayed cool in skating to victory, producing five unanswered goals and 26 saves courtesy of goaltender Will Crothers '04.
Crimson forward Aaron Kim '03 led the charge at 15:03 in the first period, snapping a shot past Dartmouth goalie Nick Boucher on a pass from Tim Pettit '04. Four minutes later, Pettit tied the game 2-2, scooping freshman Tom Cavanagh's rebound past Boucher on a power play.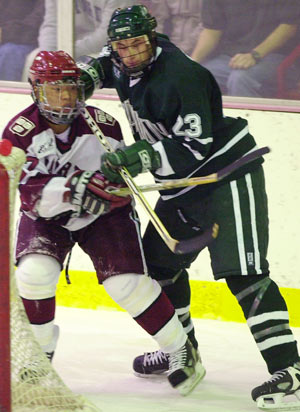 Halfway through the second period, Harvard again (and again) capitalized on the power play. With a two – man advantage following a pair of cross-check and late-hit penalties called against Dartmouth, Crimson center Brett Nowak '03 took all of seven seconds to score his first of two goals. Twenty-six seconds later, Dominic Moore '03 chipped in a goal for a 4-2 lead – the third power-play goal of the evening. And with that, the Big Green found itself deep in the red. Nowak sealed the win in the final stanza with his second goal of the game.
Harvard returns to action this weekend with a pair of road games, taking on Vermont (0-3-0) on Friday, Nov. 9, and Dartmouth (0-1-0, Ivy 0-1-0) on Saturday, Nov. 10.