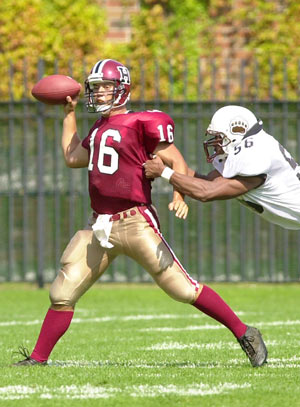 Sept. 22
Harvard 27, Brown 20
In the season opener, the Crimson unveiled a new weapon in tailback convert Josh Staph '02. Down 17-7, the former fullback scored two of his three touchdowns in the third quarter, giving Harvard a 20-17 lead. With 5 minutes remaining, quarterback Neil Rose '02 and Carl Morris '03 broke a 20-20 standstill, connecting on a 9-yard game-winning pass.
Sept. 29
Harvard 38, Lafayette 14
Scoring on four of its five first-half possessions, coach Tim Murphy's team enjoyed one of the seasons' few cakewalks, taking a 24-0 halftime lead. Rose threw for 261 yards and two touchdowns.
Oct. 6
Harvard 35, Northeastern 20
A breakthrough performance for the Harvard defense. Seconds before halftime, junior John Perry picked up a fumble and went 85 yards for a touchdown. Late in the third quarter, Brendan McCafferty '04 clinched the game, returning another dropped ball 19 yards for the Crimson's final score.
Oct. 13
Harvard 26, Cornell 6
Once again the Crimson D stepped up, limiting the Big Red offense to negative 3 yards rushing, while an eclectic offensive effort produced a 26-0 Harvard lead. Nick Palazzo '03 had two touchdown runs, as tight end Matt Fratto '04 recorded his first career TD reception.
Oct. 20
Harvard 28, Princeton 26
A last-second Princeton field goal attempt sailed wide left, giving Harvard its smallest margin of victory – and greatest sigh of relief – all season long. In the final stanza, freshmen quarterback Ryan Fitzpatrick excelled in place of an injured Neil Rose, completing five of six passes, including a 13-yard touchdown pass to Morris which secured the win.
Oct. 27
Harvard 31, Dartmouth 21
Any lingering doubts regarding Harvard's tenacity evaporated as the team rallied from a 21-point halftime deficit to defeat Dartmouth. With Fitzpatrick at the helm (262 yards on the day), the Crimson clawed back in the largest come-from-behind victory in the program's 128-year history.
Nov. 3
Harvard 45, Columbia 33
Freshmen quarterback Garret Schires made his first collegiate appearance after both Rose and Fitzpatrick were sidelined with reoccurring injuries. The Crimson managed to build a 38-7 first half lead with business-as-usual play from Nick Palazzo (132 yards on 18 carries) and Carl Morris, who set a school record with 1,991 career receiving yards.
Nov. 10
Harvard 28, Penn 21
A defensive clampdown late in the action (two sacks and a blocked punt) secured the Crimson victory in the battle of the undefeated, giving Harvard at least a share of the Ivy League title. Rose and Morris conspired for two touchdowns, as the junior receiver continued to break school records, including 66 catches in a single-season, and 150 career receptions.