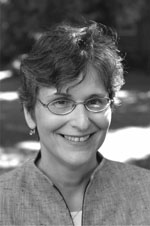 Judith Vichniac, the former director of studies for the Committee on Degrees in Social Studies and a senior lecturer in Harvard College since 1989, has been appointed the director of the Radcliffe Institute Fellowship Program at the Radcliffe Institute for Advanced Study. She began her duties in September.
"The fellowship program is the focal point of the institute's mission, and Judy has the intellectual breadth, administrative skill, and personal magnetism required to manage it," said Radcliffe Institute Dean Drew Gilpin Faust. "We are very fortunate to have her at Radcliffe, and I am enormously pleased to be working with her."
Vichniac has spent her academic career in Harvard's Faculty of Arts and Sciences (FAS). A former teaching fellow, she was appointed assistant professor and head tutor in the Committee on Degrees in Social Studies in 1984 and director of studies and senior lecturer in social studies in 1989. For 11 years, Vichniac managed the strategic planning and daily operations for the largest interdisciplinary undergraduate honors concentration at Harvard College, consisting of 300 undergraduates and a teaching staff of 40.
An expert on West European politics, Vichniac has also taught courses on social and political theory, political sociology, and cultural history, and has advised senior honors essays.
Within FAS, she was a member of the Faculty Council, the Committee on Undergraduate Education, and the Faculty – Student Judicial Board. Since 1992, she has chaired the Hoopes Committee, which awards prizes to undergraduates for outstanding scholarly work or research.
Vichniac earned a B.A. from Hebrew University in Jerusalem and a Ph.D. from the Department of Government at Harvard. She is the author of "The Management of Labor: The British and French Iron and Steel Industries 1860 – 1918," and articles on contemporary French politics and modern Jewish history.