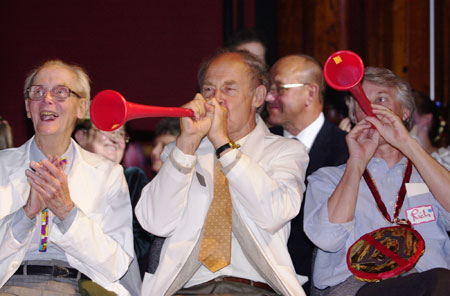 Story by William J. Cromie
Staff photos by Jon Chase
Gazette Staff
Jack and Rexella Van Impe won a prize for their discovery that black holes in outer space fulfill all the technical requirements to be the location of hell.
David Schmidt was honored for his solution to the puzzle of why shower curtains billow inward when the shower is on. He wore a bathing cap and carried a yellow rubber duck.
These were two highlights of the 11th annual Ig Nobel Prize Ceremony held at Harvard's Sanders Theatre on Thursday, Oct. 4. As the name implies, the ceremony spoofs research that is much less than noble. For example, the 2001 Ig Nobel Prize for Public Health was given to Cittaranjan Andrade and B.S. Srihari of India's National Institute of Mental Health and Neurosciences for their study of rhinotillexomania among adolescents. (Rhinotillexomania means nose picking). Andrade traveled from India to get his award, which consists of a telephone pad attached to two cans, all mounted on a cheap, wooden plaque.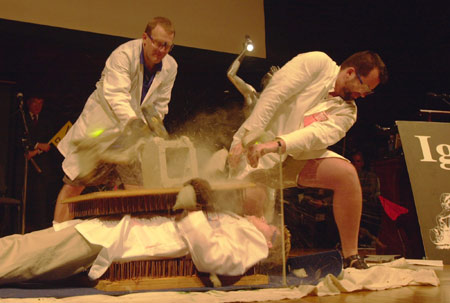 "Some people poke their noses into other people's business; I poke my business into other people's noses," Andrade quipped.
This improbable gathering is organized by the Annals of Improbable Research (AIR), one of the few magazines, if not the only one, devoted to science humor. It publishes articles with such titles as "Adolescent Dementia" and "Feline Reactions to Bearded Men."
This year's ceremony was made even more improbable by including the wedding of two geologists, Lisa Danielson and Will Stefanov, both from Arizona State University. The entire wedding took a record-smashing 60 seconds. The applause lasted longer than the ceremony.
Marc Abrahams, master of ceremonies and editor of AIR (also known as AIRhead), noted that it may have been the first wedding conducted at the historic Sanders Theatre, but he really hadn't done enough research to know for sure.
Coconuts, underwear, and glee
Several Harvard student organizations contributed to organizing the event, heckling, throwing paper airplanes, and adding to the general chaos and rambunctiousness of the evening. The one commercial sponsor, Redbones Barbecue (24 brews on tap), offered free meals to a real Nobel Prize winner and the person who won him in a contest held during the evening.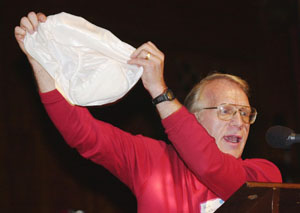 Yes, genuine Nobelists actually participated in the fun, including Dudley Herschbach, who won a Nobel for chemistry in 1986; William Lipscomb, chemistry, 1976; Richard Roberts, physiology or medicine, 1993; and Robert Wilson, physics, 1978. Lipscomb wore his distinctive colorful string tie and played the clarinet. He also served cheerfully as the prize in the Win-A-Date-With-A-Nobel-Laureate Contest.
Wearing a tacky tuxedo and a battered top hat, Abrahams introduced the other Ig Nobel winners, some of whom actually came to the festivities at their own expense. The latter included Peter Barss M.D., Sc.D., M.P.H., Head of Health, Intelligence and Territorial Epidemiologist for the Canadian Arctic, and adjunct professor of epidemiology at McGill University in Montreal. He won the 2001 Ig Nobel Prize for Medicine for his report on injuries caused by falling coconuts. The injuries included both those hit on the ground and those who fell out of the coconut trees. His report was actually published in the Journal of Trauma.
The biology award was really a gas. Buck Weimer won it for inventing Under-Ease – hi-tech, airtight underwear with a replaceable charcoal filter. Weimer, demonstrating samples, noted that Under-Ease comes in male and female models, and the filter should be changed monthly.
The economics prize was rich. Joel Slemrod and Wojciech Kopczuk won it for their report "Dying to Save Taxes," which concludes that people find a way to postpone their death if that qualifies them for a lower rate on inheritance taxes. In the report, actually published by the National Bureau of Economic Research, they note that, "we cannot rule out that what we uncovered is ex post doctoring of the reported date of death."
The 2001 Ig Nobel for Literature was one for the books. John Richards, distinguished founder of the Apostrophe Protection Society, was honored for his efforts to protect, promote, and defend the differences between plurals and possessives. He didn't show up, but he sent an audio tape to defend his research.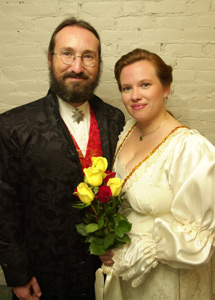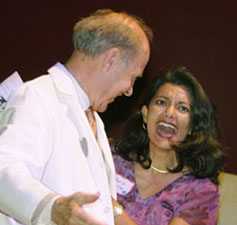 This year's ceremony included the wedding of two geologists, left, Lisa Danielson and Will Stefanov, both from Arizona State University. The entire wedding took a record-smashing 60 seconds. Above, Nadia Halim is ecstatic after winning a date with Herschbach as a door prize.
Professor Lawrence Sherman paid his own way to defend his influential study of glee in small groups of preschool children, which won him an Ig Nobel in psychology. The laughter expert admitted he is glad he won the prize at the end, rather than the beginning of his happy career.
Viliumas Malinauskus traveled from Europe to defend and promote his creation of the Stalin World theme park in Lithuania. He spoke in Lithuanian and, through his translator, promised the glowing newlyweds "a no-expense-paid-trip to Stalin World."
For whatever it's worth, the Ig Nobel for Technology went to John Keogh, an Australian who keenly observed that the wheel had never been patented, at least not in Australia. So he applied for and received Innovation Patent No 2001100012 from the Australian Patent office.
For those who missed this bizarre event, an edited version will be aired on National Public Radio on Friday, Nov. 23. Abrahams noted that a video "will, most likely, be achieved on the Internet." For details, see http://www.improbable.com. Here you can also find links to information about why those two people decided to celebrate a 60-second Ig Nobel wedding even though they didn't win one of the auspicious prizes.