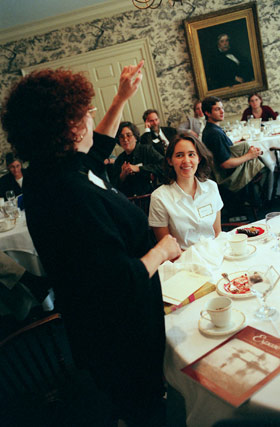 When eight members of the class of 2004 returned to Harvard this fall, they had to make an adjustment uncommon to other sophomores. During the summer they had become published authors and were soon to become household names among the new freshman class.
Each of these students has a piece of writing published in the 2001 edition of Exposé, the magazine of student essays that the Expository Writing Program produces each year and distributes in its classes. Last Friday (Oct. 19), these student authors were honored at the Faculty Club, where they were reunited with their former Expos preceptors and dined on salmon and chocolate torte with Expos faculty, administrators, and a few proud parents.
Since 1872, the Expository Writing Program has been helping Harvard freshmen enhance their writing and critical skills. But for the past 15 years, Expos preceptors have been aided in this assignment by Exposé. Funded by Harvard alumnus Gordon Gray, Exposé makes available to current Expos students outstanding writing composed for Expos classes from the previous year. The magazine gives preceptors a useful pedagogical tool in the classroom; it offers their students models of accomplished writing – and often inspiration to see an essay of their own published in next year's magazine.
More than 200 essays were submitted to the Expos Program for the 2001 edition of Exposé. Seven essays – and one short story – were eventually selected. This year's authors are Jonathan Bloom, Melissa Borja, Ashley Isaacson (winner of the Sosland Prize in Expository Writing), Patrick Medley, Julia Stephens, Sam Volo, Rachael Wagner, and Ian MacKenzie (winner of the David Rice Ecker Short Story Prize).
At Friday's luncheon, these students were individually toasted by their former preceptors, who also presented each author with a book in recognition of his or her achievement.