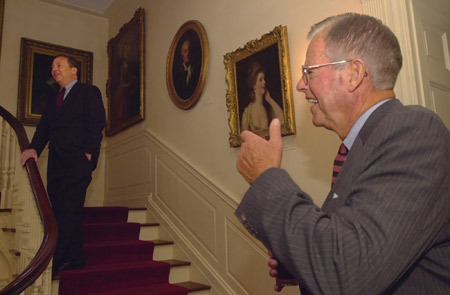 "Pull it up from your toes!" legendary Harvard crew coach Tom Bolles would yell to his rowers when he saw that they were running out of steam. During Bolles' tenure from 1937 to 1951, Harvard oarsmen responded to his call. In 1947, the heavyweight crew set a world record of 5:49 over the 2,000-meter course at the Lake Washington Regatta in Seattle.
"We could just hear him when we were rowing and exhausted, willing us to the finish line," recalled Robert G. Stone Jr. '45, who captained the 1947 world-record boat. (Like many of his Harvard contemporaries, Stone left the College for a few years to serve in World War II.) "My experiences on the crew, and with Tom Bolles, confirmed my belief that you learn so much from coaches – in your gut – that you can't learn in the classroom. Those are the lessons that stay with you."
Stone's son, R. Gregg Stone III '75, J.D. '79, rowed for Harvard under current heavyweight coach Harry Parker, who has guided the Crimson for nearly four decades and is perhaps the most recognized figure in the sport of rowing. Under Parker's leadership, Harvard crews have raced against the world's best and have achieved remarkable success, including six national championships, 15 undefeated regular seasons, and an astounding overall record of 234-38-1 (.859). Additionally, Parker-coached Harvard oarsmen have rowed at nearly every Olympic Games during the past four decades. Robert Stone describes Parker as "a perfect coach. He can do anything he asks anyone else to do."
Stone's daughter, Jennifer P. Stone '80, M.D. '86, was a letter-winner for Harvard women's heavyweight crew.
In tribute to the sport and to Harvard's two great coaches, Robert Stone recently endowed the Harvard men's heavyweight crew coach position. "It's a thrill and a pleasure to be able to do it," said Stone, who is the senior Fellow of Harvard College. "Coaches have a tremendous influence on those who row or play for them. They help create well-rounded women and men from Harvard."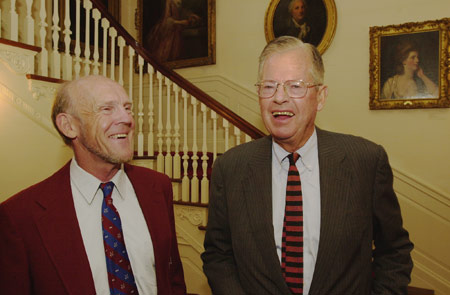 On Oct. 15, Robert L. Scalise, Nichols Family Director of Athletics, hosted a luncheon at Loeb House to celebrate the Stone family and their gift. Among those attending the event were Harvard President Lawrence H. Summers, many Stone family members, and three of Stone's crewmates from the 1947 world-record boat. In a brief toast, Summers praised Stone's decades of leadership and remarkable devotion to Harvard.
Scalise added, "This is an important gift to Harvard, in general, and to Harvard athletics, in particular. It will offer powerful support to future generations of Harvard rowers."
"It is a great honor and privilege to be associated with the Stone family, who have done so much for Harvard," said Parker, who will serve as the first Robert G. Stone Jr. Family Harvard Men's Crew Coach. "It's also a strong signal that people who have rowed had an experience that they value highly. His willingness to support the program is an endorsement of that experience. Harvard's rowing community has a very strong commitment to the program but even more so to one another."
Several years ago, Stone endowed a scholarship program for undergraduates in honor of his father. For the first time this year, one of the Stone Scholars, Wayne L. Pommen '02, was chosen as heavyweight crew captain. Parker has high hopes for Pommen and this year's crew. Their first big test will be the Head of the Charles Regatta on Oct. 20 – 21.