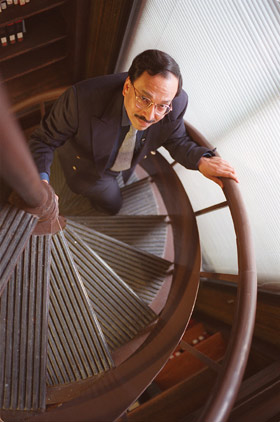 A fascination born of conflict led Sugata Bose decades ago to study the economic forces and motivations affecting South Asian rural areas. The often tumultuous lives of Indian farmers and Bangladeshi peasants made up Bose's first, relatively circumscribed, interest.
Today, after establishing himself as an authority in South Asian history, Bose has broadened his scope. He is looking at the political, economic and cultural interconnections of South Asia and countries along the vast Indian Ocean Rim, from Africa in the west to Indonesia in the east.
Bose, named the Gardiner Professor of Oceanic History and Affairs in July, freely admits that the work, summarized in the forthcoming book "The Indian Ocean Rim: An Inter-Regional Arena in the Age of Global Empire," is his most ambitious to date.
Bose said little has been written about the Indian Ocean inter-regional arena in the modern colonial period. It has long been assumed that the ascension of European colonial powers severed many traditional ties among countries in the region. Bose said that his research reveals evidence to the contrary. For one thing, economic specialization among South Asian countries continued.
"There was a wrong assumption that with colonialism, the old, original world of the Indian Ocean was ripped apart," Bose said.
In looking at the countries along the Indian Ocean rim, Bose is now expanding beyond economic history to look at political, social, artistic, and other aspects of life in the region.
"This is a total history. … I started out thinking I'd be writing an economic history of the Indian Ocean region," Bose said. "But I felt there was a much more interesting story to be told."
Bose's broad grasp of history is one of the things that made him attractive to Harvard, according to Coolidge Professor of History David Blackbourn, chair of the History Department.
"One part of his profile that makes him attractive is his broad grasp, from poetry to dusty agrarian records," Blackbourn said. "Intellectually, he's just a very lively man."
Blackbourn said Bose has developed a reputation as a leading scholar of agrarian history and, more recently, as an authority of the Indian Ocean rim, something that made him particularly suitable for the Gardiner Professorship of Oceanic History and Affairs. Blackbourn said he is confident that Bose will develop a strong graduate program in Indian studies, a sentiment that Bose echoes.
Bose comes to Harvard from Tufts University, where he was professor of history, professor of diplomacy at the Fletcher School of Law and Diplomacy, and director of the Center of South Asian and Indian Ocean Studies. He was named assistant professor at Tufts in 1984 and associate professor in 1989. He was a Guggenheim Fellow from 1997 to 1998, conducting research on the culture, economy, and politics of the Indian Ocean Rim.
He has written several books, including "Agrarian Bengal: Economy, Social Structure and Politics" (1986); "South Asia and World Capitalism" (1990); "Peasant Labour and Colonial Capital" (1993); "Credit, Markets and the Agrarian Economy of Colonial India" (1994); with Ayesha Jalal, "Nationalism, Democracy and Development" (1998); and "Modern South Asia: History, Culture, Political Economy" (1998).
Bose gained his love for history both in his childhood home and, in some ways, in spite of his home. He grew up in Calcutta, an Indian city near the Bangladesh border. Throughout his childhood, his father hosted various Indians who had been active in the movement to gain independence from Great Britain.
Bose said his love of history was first sparked hearing the stories of the independence struggle from these visitors. When he was in high school, there was an agrarian revolt in the country. The revolt got him thinking about the motivations and conditions of farmers and peasants. That interest was further piqued during the 1971 India-Pakistan war that led to independence for nearby Bangladesh. Bose accompanied his father, a pediatrician, on weekend trips to refugee camps that sprang up on India's border with Bangladesh.
Though aptitude tests indicated he should go into science. Bose was interested in other things. His mother, who was in charge of Bose's early education, was a professor of English literature and is now chair of the Foreign Affairs Committee of India's Parliament.
"I always enjoyed history and literature much more," Bose said. "I was very interested in conditions in the Indian countryside. I was interested in the history below history, that of peasants and the rural areas."
Bose attended Presidency College in Calcutta and then Cambridge University, where he earned his Ph.D. in history.
Today, Bose hopes to instill in his students the same excitement that he has about history. He said he tries to connect his lectures to current events in order to grab students' interest. Then he works backward into history. With the recent World Trade towers tragedy in New York, Bose pointed out to students that Afghanistan has been a factor in South Asian history for many, many years.
Bose said he emphasizes that students not only have to understand history and think critically about it, they also have to write clearly and engagingly. He uses anecdotes about major sea voyages, for example, to open chapters in his new book and to draw readers in. In his students' work and in his own, Bose strives to make history interesting to scholars as well as the general public. Too much history, he said, is viewed too narrowly, within the boundaries of individual countries or particular disciplines. He wants to "creatively trespass" over the traditional boundaries of historical disciplines to draw a more complete picture of a time.
"History should not become too impersonal and unattractive to the general reader," Bose said, "[I want to] provide readers with a flavor of what's going on."